Plasma Screens and Faster Videocards
---
Hello,

We're starting 2003 off with a bang! This weeks PCstats.com newsletter is filled with a mouth watering array of speedy videocards to check out, along with a the latest and greatest technology to hit PCstats' test labs! The best of which is a 42" Plasma Display from Samsung that we even managed to play a few rounds of UT2003 on... If the mere mention of "plasma" doesn't get your heart pumping, then a review of the latest Albatron Ti4680P-Turbo card might just do the trick. This card uses an 8XAGP compliant Ti4200 core (note we said Ti4200, not Ti4600) based on a Ti4600 8 layer PCB with 3.3ns BGA DRAM!
Since GeForce Ti4200 cards offer very good value for the budget minded gamer, we also saw fit to end off 2002 with a roundup of four 8X AGP cards from the likes of Abit, Albatron, MSI and Prolink. Not to be forgotten in the face of Granite Bay motherboards is DFI's i850E-based NT72-SA RDRAM motherboard which we benchmarked against the MSI GNB MAX.
This week, C. Angelini talks about NV31 and ATI's R350 in the High Tech Low Down, and in addition to dishing out Tips, Colin has a very special offer for those of you looking for a little advice. If that new X-mas computer is driving you nuts with noise, you may want to check out the low-noise Zalman 6500B-Cu heatsink, at our sponsor ExoticPC.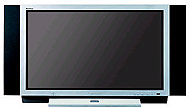 After watching countless DVD's on good old televisions, tiny computer screens, high-resolution LCD displays, and even rear projection HDTV's, I can say without a doubt; once you go plasma you never go back! Samsung's Tantus SPL4225 Plasma display measures an impressive 42" across, and a scant three and a half inches thick. The image quality is just luscious, and if you can forget about the nearly ten thousand dollar (CDN) price tag (see here) for a moment, there is virtually no downside to this display. With three similar models currently in the Tantus plasma screen line up, it is this unit, the SPL4225, and not the 50" or 63" versions which has the best overall specs. Boasting a 16:9 aspect ratio for optimal wide screen viewing, a 700:1 contrast ratio and 600 nits brightness level, the SPL4225 is visually superior to an equivalently sized rear projection HDTV when compared side by side. If that doesn't wet your whistle, just consider the 852x480 resolution progressive scan display bears no cooling fans to create distracting noises and the screen specs out with 160 degree viewing angles in both axis.
TechWatch How Plasma Makes Pictures

Unlike a CRT (Cathode Ray Tube) display which shoots electrons through a metal mask onto different coloured pixels (red, green and blue), a plasma display uses little cells of excited Xenon or Neon gas to create ultraviolet light. The plasma panel is made up of an array of tiny cells which we all know as pixels. However, each pixel contains three subpixels of phosphors corresponding to the colours red, green and blue. Sandwiched against these cells is a thin layer of gas in a plasma state. Electrical impulses enter the gas, which emits bursts of ultraviolet light at precise locations, and intervals, as determined by the digital video signal. The phosphor cells absorb these signals and then re-radiate the energy as visible light in varying intensities.
| | |
| --- | --- |
| | For half of the price of nVIDIA's high-end GeForce4 Ti46 00 videocard, you can grab yourself 90% if its performance with a GeForce4 Ti4200 based card. There's really no argument, the GeForce4 Ti4200 has been the best value in 2002. Albatron's original Ti4200P-Turbo videocard took the hardware community by storm. The card combined a Ti4400/4600 PCB and 3.3ns memory so well that many enthusiasts could overclock it well past Ti4600 levels. We played with the Ti4200P-Turbo in September '02 and were equally taken with its performance qualities. With nVIDIA rehashing their Ti4200\Ti4600's to incorporate 8x AGP technology, it was only inevitable that Albatron would redo their very successful Ti4200 Turbo's as well! |
When ATI and SiS released
videocards supporting 8X AGP technology
, nVIDIA's GeForce4 line of GPU's immediately seemed out of date somehow. Even though the nVidia-based video cards are far from being slow performers, nVIDIA heard the call from consumers, and did some quick work to bring the Ti4200 GPU's up to AGP 3.0 specs. AGP 3.0 specs a.k.a 8X AGP doubles the available bandwidth between the videocard and the system from 1.06 GB/s to 2.1 GB/s. This means that during instances where there are a lot of polygons and textures on the screen (for example), more data can sent to the videocard to be computed. In theory, 8X AGP should translate into a b
ig performance increase;
especially in videocard intensive tests like 3DMark and CodeCreatures.
| | | |
| --- | --- | --- |
| DFI NT72-SA i850E Motherboard Review | | 3DMark2001SE Tweak Guide - Part 3 nVIDIA Style |
| With Intel dropping support for RDRAM and adopting dual channel DDR for the Pentium 4, it's obvious that RDRAM will be soon be taking a less important role in the P4 mainboard markets. Still, Rambus is not going to go down without a fight, and today we're examining the DFI NT72-SA. The DFI NT72-SA is based on the i850E chipset, which is Intel's last to support RDRAM. The NT72-SA was originally released by DFI in May of 2002 and with the recent release of Granite Bay based motherboards now, it sits under the spotlight once again. The goal then, as it is now, was to produce a cost effective high performance desktop motherboard so there aren't many overclocking options to fiddle with. | | PCstats.com's 3DMark2001SE Tweak Guide - Part 2 was very popular with ATI users, but I received a lot of e-mail from nVIDIA gamers on how to tweak their videocards as well. I guess I can't/shouldn't really neglect them since about 60% of the videocards out there use nVIDIA GPU's. The 3DMark benchmarks from MadOnion are quite popular and are often used to test the power of computers, and while 3DMark may not always represent real world 3D performance, it is usually a good indicator. As we said in the original 3DMark2001 Tweak Guide, the best feature of the 3DMark benchmarks is the ability to upload your score to the web and compare your computer to some of the fastest rigs in the world. |
Colin's Weekly Tech Tips


By:
C. Sun
Remove the Shortcut to...

The ability to create shortcut keys for just about anything is a neat, and useful feature of Windows. One of my biggest pet peeve's is the shortcuts that are created always say "Shortcut to" at the very beginning.

Luckily with a bit of registry editing we can get rid of that prefix. Go to Start, then Run, and type "regedit". From there follow this path... HKEY_CURRENT_USER - Software - Microsoft - Windows - CurrentVersion - Explorer. Once you're there find the "link" binary value. By default the value inside is 0000 0F 00 00 00, we want to change it to 0000 00 00 00 00.

Once that change is made just close your registry and from now on when you make a shortcut, it will no longer say "Shortcut to" anymore. This registry tweak works with all Windows OS's.

Colin's Tips Archives | The PCStats.com Forums

The Last Word: Would you like some computer help this weekend from Colin? If you have a question about what motherboard/videocard/processor you really should get, or need help with a tech related problem, or simply want to juice up the speed of your computer and need tips, then talk with Colin in the PCstats.com forums where he will be live, answering your questions, from January 4th to 5th! First timers can Join our forums right here.
PCstats Issue
No.70
Circulation 193,000
The High Tech Low Down
---
With Chris Angelini



2002 is now history, taking with it a year of 3GHz processors and DirectX 9 graphics accelerators. We now have a lot to look forward to in 2003, including Intel's 800MHz front side bus, the Athlon 64 from AMD, R350 from ATI, and GeForce FX from NVIDIA .

But wait, wasn't GeForce FX supposed to be NVIDIA's darling... last year? For NVIDIA to compete with the RADEON 9700 Pro, it should have been, but it clearly hasn't arrived yet. Now, we're hearing that NV31 is slated to debut at CeBIT in Hannover, Germany. The card isn't expected to go head-to-head with ATI's flagship, but instead will compete against the popular RADEON 9500 Pro. Xbitlabs speculate that the card may include improved anti-aliasing and anisotropic filtering support, though there is no evidence to back this up quite yet.

Of course, ATI is expected to retaliate with RV350, a value-oriented product that is reportedly being manufactured on a 0.13-micron process. There has been no word as to what the processor will be capable of, but I'd expect it to make quick work of ATI's current value contender, the RADEON 9000. On a related note, it seems that R350 is being manufactured on a 0.15-micron process, just like the R300-based RADEON 9700 Pro. Comments?
PCstats Polls!
This Years Poll:
What hardware do you want most in 2003?


---

PCstats News is updated throughout the day
right here
by Colin himself.

Submit a product for Review