Spyware Removal Guide and New Reviews!

Hello,
The results of the 100th Issue Draw are in - and three lucky people have won some mighty nifty prizes: Arthur W. walks away with the Albatron FX5000EQ videocard, Walter W. Jr. snagged the Abit NF7-M motherboard, and the 5.1-channel Zalman ZM-RS6F headphones have been won, but not yet claimed... check your email accounts carefully folks! A couple more days and we'll have to pick a runner up!

We've been working to improve the PCstats Forums lately, so if you haven't dropped by in a while there's no time like the present! (hint hint) In this week's PCstats Newsletter we have quite a lot to go over... for starters, Mike has put together a great Guide to Removing Spyware and keeping it out of your PC. I ran one of the tests from the guide on my computer here and found no less than 212 items red flagged! Yikes!
Also on the agenda is a look at PC4000 DDR from GEIL, a unique 4-port KVM from JustCom that uses all-in-one cables to keep clutter under control, and a review of the Gigabyte GA-7VT600 1394 KT600-based motherboard. Finally, we have also reviewed a super quiet 400W powersupply from Seasonic. Not a name many of you are familiar with now, but judging by the noise output from this Active PFC unit, one you may want to familiarize yourself with. That's all for this week; remember to check out Colin's Weekly Tech Tip, and see what the High Tech Low Down has to say about the upcoming Athlon64 launch!

Learn how to protect, and remove software that keeps tabs on you.
Fresh from penning our Firewall and Virus Alert article, PCStats would like to present the second part of our beginners guide to the less savoury aspects of the internet experience; dealing with the subject of "Spyware." If you've installed a peer-to-peer sharing program such as 'Kazaa Media Desktop' or 'Morpheus', or accidentally said yes to a 'Gator' pop-up, or gone on an excursion to some of the darker corners of the Internet, chances are your PC has developed an internet life of its own through one or more spyware applications. Continue -- Click Here>>

GeIL have certainly taken the computer enthusiast market by storm; a relatively unknown company, their memory has caught on so quickly that it rivals the memory big boys like Corsair, Mushkin, or Kingston.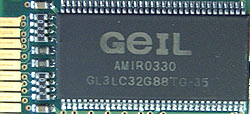 Under the tin-plated copper heat spreaders we find that Geil use 3.5ns DRAM TSOP-II DRAM. With our Intel test system we ran into the same latency issue we had with our AMD based system. No matter what we did we could not boot the computer while using the aggressive timings of 2-2-2-5. Lowering the timings back to SPD levels (2.5-4-4-7) allowed the system to run flawlessly. Luckily with our Intel rig we had a lot more success overclocking the memory.Continue -- Click Here>>



For the computer technician a KVM (Keyboard, Video, Mouse) switch is an invaluable tool as it allows one to use multiple computers with just one keyboard, mouse and monitor. With a KVM I can greatly increase my efficiency, after all what else can I do if I'm reinstalling on one machine and only have one keyboard, mouse and monitor? It would greatly decrease the turn around time and I could get the systems that are given to me to work on out faster. The JC-104P can support up to four computers at any given time and can handle up to 1920x1440 @ 75Hz which should be high enough for even those users with 21"/22" monitors.Continue -- Click Here>>



The Gigabyte GA-7VT600 has a retail price of just $143 CDN ($102 US) and comes with on board 5.1 audio, Serial ATA/Serial ATA RAID, 10/100 LAN, IEEE 1394 and of course dual BIOS's. The GA-7VT600 can use any 400 MHz FSB AthlonXP processor and will handle up to a maximum of 3GB of PC3200 DDR RAM. The Gigabyte GA-7VT600 1394 is a pretty big motherboard so you'd better have a roomy case. The general layout of the board is excellent, the main IDE/floppy drive and ATX power connectors are in their most ideal location to the right of the DIMM slots. All the headers are place at the bottom of the motherboard which makes attaching the headers much easier as all the cables will be out of the way.Continue -- Click Here>>
| | | |
| --- | --- | --- |
| | | Cleaning out the Swap File |


I often find that Windows is temperamental; when you're playing nice it works flawlessly, but then all of a sudden it can throw temper tantrums that put a 2 year old to shame. And like any child, WindowsXP very rarely cleans up after itself.

For instance, WindowsXP doesn't clear out the swap file before shutting down. This can cause serious security issues and lead to performance drops if the swap file is not optimized correctly. Luckily, with a few strokes of the keyboard we can make WindowsXP clean up in this case.

First, load up regedit (Start -> Run then type REGEDIT and press Ok). Now follow this path HKEY_LOCAL_MACHINE -> System -> CurrentControlSet -> Control -> Session Manager -> Memory Management and find the ClearPageFileAtShutdown DWORD. By default its value is 0 which means Windows does not clear out the page file when shutting down. We want to change the value to 1 and enable that feature. Once done, save and reboot the PC which will leave you with a clear page file every time you start the computer from now on. Please be aware however, if you use a large page file, shutting down may take a bit longer as the system has to clear the data first!


Do you have stability problems with your system while it is under load? Does your computer spontaneously reboot for no reason? Have you killed a few pieces of hardware lately? If you answered yes to any one of the above questions your power supply may be the source of all the problems! Seasonic is not a brand that most computer users will recognize, but they have been producing power supplies since 1975. Until recently Seasonic have been focusing on the OEM market almost exclusively. The 400W Super Silencer SS-400AGX Active PFC is one of Seasonic's first foray's into the retail market, and the power supply we will be examining today. Continue -- Click Here>>

PCstats Issue
No.102
Circulation: 274,460



The High Tech
Low Down
Last week I spent some time talking about AMD and its plans with Athlon 64. Today, I'd like to discuss Intel's strategy for combating the red-hot salvo AMD is firing into its court. After all, I've heard reports from reputable sources that no more than 5,000 of AMD's flagship launch chip (which was revealed last week on an overzealous OEM's own web site) will be manufactured in the remainder of 2003.
Of course, later this year Prescott will be launched and rumor has it that 3.4GHz will be the initial operating frequency. A 3.6GHz variant will emerge in the first quarter of next year, and a 3.8GHz version by the end of the second quarter. Intel will then go back and update the 2.8 and 3.0GHz processors to include the architectural features introduced on Prescott (1MB L2 cache, enhanced Hyper-Threading). It also appears that Prescott's front side bus will remain at 800MHz through its lifespan, even though the supporting Grantsdale chipset is rumored to feature DDR-2 533MHz memory. Prescott's successor, Tejas, should debut at 4GHz and eventually move to a 1.06GHz FSB. Then, the micro-architecture will transition to 65nm, at which point even higher clock speeds are feasible.

Written By
Editor-in-Chief
. M. Page
Weekly Tips
. C. Sun
HTLD Columnist
. C. Angelini