PCstats Annual PC Checkup!
Hello,
The last time I looked inside my PC there was a dust bunny the size of a Godzilla lurking below the 7200RPM hard drives... Talk about a bad situation, the intake vent at the front of the computer had been sitting on the floor, gradually sucking in massive amounts of dust and other "things" for months on end. The heatsink whose duty it was to cool the 2GHz Pentium 4 processor had turned in colour from a nice black anodized aluminum, to a sort of dishwater brown thanks to all the dirt clinging to the metal. If this sounds familiar, don't worry, there's a quick and relatively simply way to clean you PC - but before you tackle that job, read through PCstats's "Annual PC Checkup Guide" for a few pointers and safety considerations. After all, the last thing anyone wants is to 'zap' their computer dead while cleaning out the dust bunnies.
The newsletter kicks off this week with an interesting view on the "new" Intel Extreme Edition Pentium 4 processor in the High Tech Low Down, and a little further down the page, Colin's got a tip on improving Windows File System Caching.
Gigabyte's brand new 8S655FX Ultra motherboard is based on the SIS 655FX chipset, and before you moan "SIS" and move on, be aware that the performance of this chipset surprised us - being that it matched i865PE, and came close to i875P levels in more than a few benchmarks. Hard to believe, but unless you read the review you won't know what you're missing. I've also drawn up a quick look at the upcoming SIS roadmap - so you can see exactly when your $700 videocard will become obsolete in the face of PCI Express x16. MSI have entered into the MP3/USB harddrive/digital radio world with their MegaStick1, and rounding out the reviews this week is a look at Crucial's ATI Radeon 9800. ATI has blown past Nvidia in the videocard game, so factor that in with Crucial's great service and you have an excellent proposition.

A medical primer for your computer, from dust bunnies to defragging, keep your computer in good health.
There comes a time in every once-new computer's life when it just doesn't feel fresh anymore. You know, when it's taking 5-10 minutes to boot up into Windows, the fans are making funny squealing noises, and there's a wad of orange cat hair protruding from the rear fan grille. It's the computer equivalent of senility, your once precious box has lost its edge. Time for action. Sure, you could pop down to your local computer mart for $200 or so of fresh parts to keep the dust from settling, but for those of us on a budget there is another option. For starters, there are a fair few things you can do to make your old faithful feel (somewhat) like new again without much expense. Let's take a quick look at some of the most common hardware and software problems related to constant use, and find some quick solutions. Continue -- Click Here>>
SiS are easily one of the hottest tech companies in the world right now when it comes to core logic. However, while the company has produced some very remarkable chipsets in the last little while, there are still some parties that can't shake the 'low end chipset provider' moniker, even though it is wildly outdated. It would seem as though SIS' past reputation still haunts them, but as long as the company stays true to the current path, there is no doubt they are set to take the chipset world by storm. Today we're going to be checking out Gigabyte's new GA-8S655FX Ultra motherboard which is based on the hot new SiS 655FX chipset. The SiS 655FX's main competitor is Intel's i865PE, however it can even give Intel's higher end i875P Canterwood chipset a good run! Continue -- Click Here>>


Fresh from testing the capabilities of the SIS 655FX chipset, PCstats takes an in depth look at the next four quarters of chipsets that are scheduled to be released by SIS. Not only do these road maps give us insight into upcoming SIS products and technologies, but they also shed some light as to what we can expect from both AMD and Intel; each typically very secretive when it comes to the details of their unreleased processors. Performance of the 655FX has been remarkable considering that SIS are rarely known for producing performance core logic, but as it stands the 655FX matches the i865PE, and comes very close to the i875P in several benchmarks. The SIS662 will be exciting if it keeps up the performance curve, for it is the first SIS chipset to introduce DDR2 and PCI-Express, and should be released in the first quarter of 2004. Your favorite AGP videocard becomes obsolete as of the summer of 2004, when PCI Express-x16 hits the market, barring any delays of course. Thus far, only ATI have demonstrated a working videocard based on this new standard. Continue -- Click Here>>


The evolution of technology, isn't it a curious thing? To get to the MSI 5-in-1 Megastick 1 MP3 player we first have to look back, look way... back, to the time of the simple floppy disk. Storing 1.44MB of data it offered ease of use, low cost and broad compatibility. As file sizes bloated, the floppy gradually multiplied into 5 packs and then 20 packs. Pretty soon after the floppy became impractical as a portable, removable, and inexpensive storage solution. The ZIP drive gave us all a little breathing room, but like Iomega's stock price, never really rose, or gained widespread acceptance as did the humble 1.44MB floppy. Fast forward past the whole Napster-MP3-Digital Music-RIAA debacle and the inundation of an army of shiny dedicated portable MP3 players, and the stage is set. Running on a single AAA battery (included) the MSI MegaStick1 stores up to 128MB of data, allows you to listen to the radio when you run out MP3s, or even just to make a quick verbal note. An electroluminescent backlight enables the LCD to be seen even in the dark, and a Jog-dial helps with file navigation.Continue -- Click Here>>
| | | |
| --- | --- | --- |
| | | Auto Complete Can Auto-stop |

Not all computers are created equal, and so Microsoft has had to try and write their OS's for the masses, meaning Windows may not be optimized very well for your PC. Luckily, Microsoft also built in a few switches that help you to fine tune your system.

Today we're going to optimize Windows File system Caching which should hopefully improve performance of your system a bit. First load up regedit (Start, Run then type regedit and press ok) and follow this path. HKEY_LOCAL_MACHINE -> SYSTEM -> Current ControlSet -> Control -> Session Manager -> Memory Management.

From here find the IoPageLockLimit and change its value according to how much system memory you have.
4096 - 32MB or less of memory
8192 - 32MB+
16384 - 64MB+
32768 - 128MB+
65536 - 256MB+


After that's done save and reboot. Now that Windows has been tuned for your OS you should notice a bit of a speed increase, especially when dealing with memory intensive programs. =)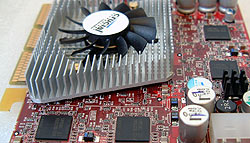 The Radeon 9800 Pro VPU is really nothing more than a higher clocked 'R300' core that has been tweaked for just a bit more performance. We'll get into the specifics in a moment, but as you're about to see it really does improve performance nicely. In any event, the highly successful Radeon 9800 Pro we are examining now came to market from an unlikely source - Crucial, a division of Micron, and a tier one memory manufacturer. Crucial ventured into the highly competitive world of videocards in the summer of 2002, originally releasing a Radeon 8500LE. Their videocard caused quite a stir in the hardware community due to the use of 6ns DRAM, however the performance of the card was not able to live up to expectations. Today we'll be checking out Crucial's new Radeon 9800 Pro videocard, does this card live up to the Crucial name and expectations? You'll just have to read on to find out! Continue -- Click Here>>

PCstats Issue
No.106
Circulation: 260,120



The High Tech
Low Down
AMD's Athlon 64 commanded the spotlight last week, but that was only half of the story. Apparently, Intel learned its lesson from the original Athlon's release several years ago because this time it had a retaliatory measure ready and waiting in the wings.

Its Pentium 4 Extreme Edition isn't a major departure from the existing models. In fact, the processor is very similar to the server-oriented Xeon, only it runs at 3.2GHz, on an 800MHz front side bus, and fits into the standard 478-pin socket interface. In other words, it's a drop-in replacement for any current Pentium 4 processor, providing your motherboard supports it.

But what about the 'Prescott' core we've all been waiting for? Where does that fit in to Intel's grand scheme? We recently contacted Intel, and according to a representative, the updated core with 1MB of L2 cache and 13 new instructions will "start generating revenue" in 2003 (probably meaning it will ship to resellers), but the chip itself probably won't emerge until 2004, we gather.

The launch product is slated to be faster than current processors, so it'd be safe to expect a 3.4GHz chip when the time comes. Whether or not it is faster than the Extreme Edition remains to be seen, though. We've heard that Prescott won't be as fast, but that's just a rumor until the benchmarks back it up.

Written By
Editor-in-Chief
. M. Page
Weekly Tips
. C. Sun
HTLD Columnist
. C. Angelini