GFX5200 Review and Workstation Hardware
---
Hello,
It's early morning and as I write this I'm knocking back a coffee from Second Cup and checking the daily tech news over the wireless link built into my little Fujitsu P2000 Crusoe-based notebook. As much as there are downsides to setting up an 802.11b wireless network, once you get it going it's really nice.
This kind of 'revelation' doesn't come with a billion dollar ad campaign, or a new processor from the boys in blue, but just good gear that works and is easy to configure. After the last round-up of 802.11b wireless gear we did, I've come away with both an appreciation for 802.11b wireless, and a deep resentment for badly setup management consols and lackluster manuals. This isn't an isolated situation of wireless born frustration either, with the flick of NetStumber.com's application, it's pretty obvious that there are plenty of other wireless converts in our area who have avoided most forms of wireless security as well. This includes leaving 64-bit WEP disabled, keeping the default management console settings, and believe it or not naming their WAP after their company or street address... one place even went so far as to call it "Company XYZ Internal-mgmt." Jeepers.
What's the point of all this? Well, I think there are a great deal of businesses out there who are possibly broadcasting their networks over the airwaves with little or no protection. One look with NetStumbler and a wirelessly-enabled notebook will tell you who's doing this in your office, or on your street - keep in mind though, if you attempt to access someone else's network, that is illegal. With that said, the PCStats.com Newsletter is officially making the month of May "Check your Wireless Network for Proper Security Month." There are four basic security parameters outlined here that you can direct your IT people to now for starters.
This week the PCstats.com Newsletter has a review of an E7205 Granite Bay Workstation motherboard which comes equipped with a MiniPCI slot on board. Next up is a look at Albatron's brand new GFX5200P budget gamer card along with a set of rather nifty image quality comparisons I highly recommend you check out. Also on the table are a couple of 19" monitors, one LCD and one CRT, and of course Colin's Weekly Tech Tip. In the High Tech Low Down, Chris has more to say about the eternal struggle between ATI and Nvidia (remember the days when Matrox used to be uttered in the same breath?) and what's next for the graphics card industry.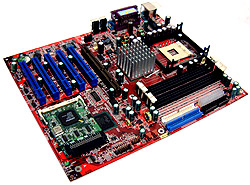 Before the i875 Canterwood chipset surfaced and brought in support for 800MHz FSB Pentium 4 processors, we had the Intel E7205 Granite Bay. Slated as a the new 'workhorse of workstation systems', this chipset has been received with much interest, though in limited numbers. PCstats.com tested out one such example in the form of the MSI GNB Max-FISR motherboard a few weeks ago, which while incorporating the E7205 chipset, is a purely desktop-oriented solution. The GNB Max is a good board by its own right, but if your computing situation demands more of a heavy-hitter then todays review of the MSI E7205 Master-L could be just what the doctor ordered.

Boasting the same dual channel DDR memory capabilities, the MSI E7205 Master-L is clearly a solution for workstation environments which demand a little more punch, like (drop-in) onboard SCSI for example. Outfitted with a MiniPCI socket, the board has a level of expandability not often seen out of the server, or SBC (Single Board Computer) environment. Of course, the inclusion of the MiniPCI socket does not a workstation motherboard make. Other appealing features included on the MS9126 E7205 Master-L are a 50-watt 8X AGP slot, Gigabit Ethernet care of Intel's own RC82540EM chipset, 5.1 channel AC'97 codec-based audio, and five bright blue 32 bit PCI expansion slots. Read the Rest...

nVIDIA received a lot of flak when they released the GeForce4 MX GPU last year, many screamed that the GPU while fast, did not deserve the GeForce4 nomenclature since it was not DirectX 8 compatible. It seems like nVIDIA learned from their mistakes this time around because the entire GeForceFX line of GPU's are DirectX 9 compatible - even the budget GeForceFX 5200 based Albatron videocard we're testing today! Using a cool coloured blue PCB, the Albatron GeForceFX 5200P is oriented towards budget gamers who want the latest and greatest in terms of technology but do not need the $500-levels of performance the other nVidia cards offer. With a street price of just $155 CDN ($95 US) the Albatron GeForceFX 5200P does not come with any other frills other then TV-Output and WinDVD. With no DirectX 9 games on the market, it was a wise move for Albatron not to bundle any games with the videocard since the older games would just tack on to the overall price.
While working on my dad's home theatre SFF PC recently, I found out just how useful combo CD-ROM drives can really be. Because this computer was hooked up to an old 10-BaseT home Ethernet at my parents house which also has broadband internet access, my had dad downloaded a whole lot of stuff he wanted to burn. He likes to use the SFF PC on the 52" HDTV instead of his main PC, but this tiny computer didn't have room for both a DVD-ROM and CDR-RW burner. Samsung has been pumping out quite a bit of value optical drives lately and today we're going to be taking a look at their latest SM-352 52x24x52x16 CD-RW/DVD combo drive. In terms of speed the Samsung SM-352 is in the fastest class for combo drives on the market. With an 8MB memory buffer and Samsung's 'Buffer Under Run Free' technology, the SM-352 pretty much guarantees error free burning. Read the Rest...
Samsung Syncmaster 191T 19 inch TFT LCD Display
Innoventions Ramcheck Advanced Memory Tester
We often take for granted the standard LCD display, looking first for the ultra thin dimensions primarily, and then investigating other areas. Big bulky Cathode Ray Tube monitors have taught us to think that a computer display can only, and should only turn left or right, and tilt up or down.

The beauty of the LCD display is that not only does it take up one heck of a lot of less space, but it also offers other freedoms that many of us are honestly not accustomed to. Now part of this will depend on how well the manufacturer has thought things through, and part of this will depend on what kind of LCD display you are considering. Value displays are typically made in once piece and offer only very limited adjustments. A display like the Samsung 191T is a more of a higher end LCD display and this is immediately evident when you look at what the removable stand has to offer. Read the Rest...

Designed and built with the reseller, memory manufacturer and computer service center in mind, the Ramcheck memory tester from Houstin-based Innoventions is a one-of-a-kind portable memory testing platform for the professional. At a cost of just under $2,000 USD for the standard unit, the Ramcheck memory tester comes in fairly inexpensive in a market populated by large desktop testers that can range in price from as much as $8,000-$26,000USD. The basic unit comes in a padded protective case with a serial cable, power supply, desktop software and instructions. Depending upon individual requirements, expansion adaptors can be used to widen the capabilities of the Ramcheck from standard 168-pin SDRAM through to DDRAM, SODIMM, SIMM, and even individual TSOP memory modules. The versatility of the unit is quite unique, though at first glace it presents a more humble impression. Read the Rest...
Colin's Weekly Tech Tips



By:
Colin Sun
Today: Speed up WinXP Shutdown
WindowsXP is probably the most user friendly Microsoft operating system ever but I find it takes forever to load and shut down. Luckily with a few strokes on the keyboard I can make XP shut down much faster. =)

Load up regedit (Start -> Run -> regedit) and follow this path HKEY_LOCAL_MACHINE -> SYSTEM -> CurrentControlSet -> Control. From there find the WaitToKillServiceTimeOut string. Change its data from 20000 (default) to something lower like 10000 or even 5000. Please keep in mind that the computer value used here is milliseconds. After that's done close regedit and reboot your computer.

After this change has been made, your computer will shut down much faster!
Colin's Tips Archives | PCStats.com Forums

Introduce a "new" display technology like LCD and suddenly everything which is based on a Cathode Ray Tube (CRT) is old, obsolete, and totally uncool. Normally I'd be the one saying that, but when it comes to CRT's there have been some very good improvements to the technology which are keeping it up to date with its' anorexic counterparts. For instance, "Flat Face" CRT monitors have evolved out of consumer's desire for a better viewing display with less image distortion at the outside corners of the tube. The technology has delivered on this desire fairly well, though there are a multitude of variations on this highly marketable trait.
The three basic variations of a flat face CRT display are all flat on the outside part of the screen you see, but on the inside face of the screen glass things are different. LG's Flatron have a completely flat piece of glass inside and out, but other manufacturers use inside surfaces which are either curved in both directions like a traditional CRT, or are flat in one axis, and curved in the other. Read the Rest...
PCstats Issue
No.85
Circulation: 205,687

The High Tech Low Down
By: Chris Angelini

ATI's RADEON 9800 Pro is beginning to see availability, as is the GeForce FX 5800 Ultra (the latter at ridiculously high prices) and yet we're already hearing rumors of the next generation products from both NVIDIA and ATI.
Understandably, NVIDIA is in more of a hurry, as its FX 5200, 5600, and 5800 cards are all rare commodities. The second generation of DX9 cards will be based on a graphics processor codenamed NV35. Rather than utilizing DDR-II memory on a 128-bit bus, NVIDIA looks to be following ATI by incorporating a 256-bit bus and DDR-I, which is less expensive and more available. It will also sport a feature set eerily reminiscent of the GeForce FX we know today, though initial claims are that it is significantly faster.
On the other hand, ATI is already showing its RADEON 9600 hardware, based on a .13-micron process. It would make sense that at some point, late in '03, ATI could transition its flagship line to the smaller manufacturing process, concurrently increasing the chip's operating frequency. There has also been some speculation that the next-generation R400 won't be launched until next year, in which case NVIDIA may regain the performance crown through the end of 2003.

PCstats Polls!
PCstats News Poll:
How often do you read PCstats News?
Click here to Vote!
---

PCstats News is updated throughout the day
right here.
Read it and stay informed.

Submit a product for Review