The Fastest AMD Motherboards
---
Hello,
In just a few weeks time we should have a set of new Intel chipsets upon us. While expectations are especially high for both Springdale and Canterwood (i865/i875) chipsets, it is nVidia and AMD which have consumers undivided attention right now.
Judging by the voracious appetite for nVidia nForce2 mainboards lately (have a look at the motherboard reviews section here) it's no surprise. With dual channel DDR400 support, available onboard graphics that don't disappoint, 10/100 LAN, and support for DDR400 memory, the boards offer a very tempting package. Couple that with the sheer affordability of AMD AthlonXP processors and you have a fast solution on your hands no matter which way you look at it. This week we take a look at Abit's NF7-M nForce2 mainboard, Albatron's KX400-8XV VIA KT400-based mainboard, and rehash some basics for the newbies. Colin's Weekly Tech Tips looks at the problem of Windows crashing, and this weeks HTLD talks about Intel's upcoming 800MHz FSB Pentium4.
On another note, if you know anyone who has tried to subscribe to the PCstats.com Newsletter recently but hasn't yet gotten their weekly dose of good techno-babble, please direct them here. We had some software bugs which may have kept some people from subscribing (now fixed).
Last but not least, PCstats.com is putting out a Help Wanted call to techno-savy writers and geeks. If you think you have what it takes to be on our side of the computer screen, we want to hear from you! PCstats.com is currently looking to add a couple really dedicated writers to the team (translated: underpaid, long hours, lots of FUN, and tight deadlines ;-). For information on how to apply, please see The Last Word in this weeks Edition of the PCstats.com Newsletter.

It wouldn't be much of an understatement to say that everyone's attention is firmly focused on nVidia's Nforce 2 chipset - and the boards that support it. Can a chipset really come before the motherboard, or even CPU in order of importance? Some of you are right now nodding your heads and saying "yes" to that question, but is this just isolated to the nForce2 chipset? These days it seems all the hype in the AMD world surrounds nVIDIA, but lest you forget there are other chipsets to choose from. Remember a tiny little company by the name of VIA? Well, their KT400 chipset powers the Albatron KX400-8XV Pro, and as you are soon to see, the results are interesting to say the least...Read the Rest...

PCstats.com ShoppingList Assistance
It's that time of the month again; time for an updated PCstats.com ShoppingList. We know how confusing it can be choosing the right components for a new computer system, or an upgrade to an existing one. That's why every month we assemble the PCstats.com ShoppingList as a guide to help you get good gear. We cover the basic components needed to assemble a full system, with monitor, and list the average $USD price each part retails for so you can print it out and take it with you. Use the ShoppingList as a guide to build a better "white box" system, or follow our recommendations to the letter - it's totally up to you.
Visit the PCstats.com ShoppingList Page for the April 2003 Budget $599 System and $1500 Mainstream System hardware recommendations too.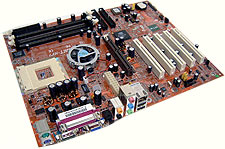 The success of nVIDIA's nForce2 chipset has been nothing short of phenomenal. In only half a year, nVIDIA have dethroned the previous champion chipsets from VIA and have created quite a reputation for themselves in the stable high performance chipset arena. Nvidia's competition has been scrambling to catch up, and even newer chipsets like VIA's KT400A don't appear to have enough muster when it comes to the benchmarks or feature lists. If one were to buy a mid to high end motherboard or AMD "whitebox" system these days, they would be well advised to only seriously consider options which have 'nVIDIA nForce2 inside.' Today we're going to be checking out Abit's NF7-M nForce2 IGP (Integrated Graphics Processor) AMD AthlonXP motherboard. Other then the on board GeForce4 MX videocard care of the nForce IGP northbridge this board is virtually identical to Abit's extremely successful NF7/NF7-S motherboards with the exception that is lacks both built in SATA and IEEE1394 support. Read the Rest...



Basics of Internet Navigation
Beginners Guides: Computer Error Beep Codes

By now, in our futuristic-sounding century, most people are familiar with the conventions of using the internet. All you do is fire up your PC; "click" on the appropriate "icon," and start "surfing." Most people know that surfing means typing an "address" into your web browser's "address bar," and waiting till something appears on your screen. Then you "click" on "hyperlinks" and try to "navigate" your way to where you want to go. But how does your computer know to display the websites you request? How does it access them and then return, just like a faithful schnauzer , to your computer and only your computer? Read the Rest and find out...

Since I'm the "computer expert" among my friends and family, I often get those late night phone calls and e-mails asking me what's wrong with their computer. I'll be honest. It does get quite frustrating and annoying at times when people start off with "What did I do?" I understand that they're only asking me because they trust I can do a good job, and they really don't have anyone else to turn to. When I start fixing a computer, 99% of the problems I see are software related. Most of the time it is you, the user that wrecks, breaks, crashes, or kills your computer. Sorry, I have to be blunt about it, but it's true. Read the Rest...
Colin's Weekly Tech Tips



By:
Colin Sun
Today: Quit Waiting for Windows to Crash

Because I usually have a lot of background programs running I find my computer can get to be really annoying - making me wait Windows to recognize an application which has crashed yet stays in memory. Luckily it's easy to decrease the time Windows waits for an application that has bit the bullet, before it gives you the option to close it.

Load up regedit (Start -> Run -> regedit, then press the ok button) and follow this path. HKEY_CURRENT_USER - > Control Panel -> Desktop and inside there find the HungAppTimeout string value. The default value is 5000 milliseconds (5 seconds) and you can change that to whatever you'd like but please remember that any value you input is in milliseconds, myself I set that to 2000 ms (2 seconds).

Now Windows waits about 2 seconds before it gives me the option to end task that has crashed. Now if "they" would only find a way of stopping THAT from happening!

Colin's Tips Archives | PCStats.com Forums
PCstats Issue
No.82
Circulation: 192,153

The High Tech Low Down
By: Chris Angelini
The task of choosing a motherboard to house a new Intel Pentium 4 processor has increasingly become a game of Russian roulette. On one hand, the E7205 "Granite Bay" chipset is a fantastic performer. But it's a workstation chipset and is consequently grossly overpriced for most enthusiasts. Intel's i850E is still one of the fastest, but lacks newer features like AGP 8x support. The i845PE platform offers a great middle ground, but it isn't the fastest solution.
SiS has a winner with the 'B0' stepping of the 655 chipset but keep in mind the first stepping, A0, doesn't function properly with Hyper-Threading. I am, however, expecting a lot from Intel's Canterwood chipset (the 875 platform), which is expected to debut mid-April. Along with it, we'll see an introduction of the 800MHz front side bus. Intel's 865 chipset will also support the new setting. Plus, several manufacturers will release special i845PE boards guaranteed to operate reliably with the faster bus speed. SiS will be updating its product line with the 655FX and 648FX chipsets, essentially unchanged from their current form other than official 800MHz FSB support. So, if you were planning on a Pentium 4 purchase, hold off until the new chipsets debut - the wait looks to be worthwhile.

PCstats Polls!
PCstats News Poll:
How often do you read PCstats News?
Click here to Vote!
---

PCstats News is updated throughout the day
right here.
Read it and stay informed.

Submit a product for Review