Newer, Faster Processors on the Horizon
---
Hello,
As I sit here watching live streaming coverage from news.bbc.co.uk of a war being faught on the other side of the planet, one thing becomes evident; the last time war was waged in this region the information came to us through our televisions, and now it comes to us in formats over the internet. Hardware is what we tend to focus on at PCstats.com, but I suppose that can cause us to loose sight of what that technology actually enables. Motherboards, videocards and even faster processors are simply the component circuitry which allow you to read this weekly newsletter, write an email off to a friend, or keep the global internet functioning - from file sharing music, to sharing news from around the world. As events of a worldwide scale unfold, technology is playing an important role disseminating information; a role which it has never really done over a conflict in this way. Americans are free to read their news coverage from the World Press, or even from Al Jezeera if they so choose. Those in the affected areas can get their news from The New York Times, or even the myoptic CNN. In both cases, the common thread of technology enables access to a variety of opinions, enlightened and misinformed, good or bad from around the world.
Returning to the topic of today's newsletter.... it's not that much of a surprise that there are newer, faster processors on the horizon from both Intel and AMD. Since the days of the 386 PC we have come to expect that every six months or so there will be a better solution hitting store shelves. What is kind of tantalizing now, is that both Intel and AMD are set to raise their FSB or Front Side Bus speeds yet again. Intel will be moving to 800MHz bus speeds, and AMD to 400MHz. Only time will tell how things face off, but for the moment we can take a peek forward and get an inkling of what to expect. Colin has taken the AMD AthlonXP 3000+ "Barton" processor and tweaked it to run at equivalent 400MHz bus speeds. Throw in a few benchmarks and you can get a good feel for what to expect at the next release from the much beloved AMD. Also in this weeks edition, low latency PC3200 DDR from Corsair, the nForce2-packing Epox 8RGA+ motherboard, Taisol's digital camera flash memory device, and a look at what Biometrics are, and how they work.

Recently, we had a chance to test out a 512MB module of their XMS3200 LL (Low Latency) DDR which is rated to run at 200 MHz FSB with the timings of 2-2-2-6-1, at a voltage of 2.5V. Mightly impressive claims to be sure, but sometimes memory can fall a little short in the real world tests. Overclocking the memory was the first priority, and to accomplish this we installed the single 512MB module of XMS3200 LL memory into an Epox 8RDA+ motherboard. The FSB was raised to 200 MHz while keeping the most aggressive memory timings available (2-2-2-5-1 at 2.5V) and there were no problems....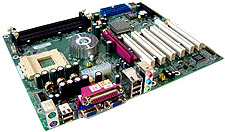 I find from a consumer point of view, Epox usually deliver a good mixture of value and performance, and I also like how openly the company embraces the enthusiast community. Like all nForce2 motherboards, the Epox 8RGA+ supports 200/266/333MHz FSB AthlonXP processors, and even the anticipated 400MHz FSB variety should AMD decide to release them (we vote Yes! on that question). The three DIMM slots are standard feature on all nForce2 boards and can hold a maximum of 3 GB of PC1600-3200 DDR memory. Epox have bucked the trend and equipped the EP-8RGA+ with twin analog display output connectors - that's right, two of em! - so users can take full advantage of dual displays. An 8X AGP slot is also available for full-fledged videocars. Read the Rest...

While AMD just recently increased the AthlonXP bus speed from 266MHz to 333MHz in October 2002, there has been a lot of talk lately about the AthlonXP moving to a 400MHz bus speed as early as the third quarter of 2003. As most overclockers already know, FSB (Front Side Bus) speed is very important to overall system performance. As we have seen in the past with the Intel Celeron line of processors, a low FSB can severely limit the overall system performance of a processor regardless of what the CPU clock speed actually is. To illuminate some of the potential differences, we're going to take a look forward and compare an AthlonXP 3000+ running at 333MHz bus speed to the same chip running at a 400MHz bus speed (while keeping CPU clock speed approximately the same). Read the Rest...


Visit the PCstats.com ShoppingList Page for the March 2003 Budget $599 System, $1500 Mainstream System and $2500 High-End Performance System hardware recommendations.



Taisol 4-in-1 PCMCIA Flash Media Adaptor
Biometrics Explained


One of the devices which Taisol have recently introduced is a patented 4-in-1 flash media connector. This tiny little black connector is undoubtedly soon to find its way into media bays, USB-based media readers, notebooks and countless other devices. Since it measures about 5mm thick and 45mm wide, it is easy to embed the unit in the smallest of locations. With the growing number of motherboard manufacturers including rather large and bulky media bays with their deluxe editions, a switch to something of this size would free up a lot of space for other devices, like audio or fan-speed controls for example. Read the Rest...

Biometrics is the methodology for recognizing or identifying persons based on physiological or behavioral characteristics. Essentially all security features are based on a combination of three key concepts. Security can be based on something you have, something you know or something you are. While tokens or passwords can copied or stolen, biometric identifiers are much more difficult to reproduce. Currenty physical traits which can be used as identifiers include facial shape, fingerprints, iris patterns, retina patterns, hand geometry, speech, handwriting / keystroke order and finally even wrist vein patterns. For these identifiers to be physically compromised it would involve a very gory operation... Read the Rest...
Colin's Weekly Tech Tips



By:
Colin Sun
Today: Speeding up HDD Access

This tip is for those of you who work with large files or HDD intensive programs. Did you know that you can optimize your file allocation size for a bit more performance? Well you can. Now, everyone knows how frustrating it can be when you're waiting for a large photoshop file to load thanks to the slow HDD, but there is a tweak for this.

For users of Win2k/XP, load up regedit (Start, Run and type regedit). Follow this path HKEY_LOCAL_MACHINE -> System -> CurrentControlSet -> Control -> Session Manager -> Memory Management. Inside there add the DWORD ContigFileAllocSize and and modify it's value to 512 while using decimal base. After this modification, you will have to reboot and defrag your HDD. Once everything is done, you should notice your HDD intensive apps run just a bit faster.

Colin's Tips Archives | PCStats.com Forums
The Last Word:

PCstats.com Folding @ Home - Does your computer sit idle during the day, or overnight? Why not use put those spare CPU cycles to good use and join the PCStats Folding @ Home Team! It's for a good scientific cause and it's also a lot of fun. Folding @ Home is a Stanford University distributed computing project. The project uses a screen saver that makes use of idle computer time to study protein folding related diseases such as Alzheimer's, Mad Cow (BSE), CJD, ALS, and Parkinson's. For more information, and to download the necessary files, please visit the Team PCStats Folding@Home forum discussion. You can make a difference, and all you have to do is support this worthwhile cause. Tell your friends to sign up for their own weekly PCstats.com Newsletter here .
PCstats Issue
No.80
Circulation: 185,940

The High Tech Low Down
By: Chris Angelini
We've been hearing a lot about Intel, its 'Canterwood' chipset and the 800MHz front side bus lately. It's no secret that we'll be seeing integrated Serial ATA and Hyper Threading throughout the Pentium 4 family, purportedly some time in April. And we already know that the 'Prescott' core, with 1MB of L2 cache and a 90nm manufacturing process, will debut in the second half of 2003.
AMD's plans are a little more obscure, though. Earlier in the year, Intel's top competitor announced that its Athlon XP 3200+ would launch mid-2003. I've had conversations with folks at AMD verifying that data, implying that the chip was more likely to launch on the tail-end of what would be considered the middle of '03. But there are new rumors that a version of the Athlon XP is to be expected, which would operate on a 400MHz front side bus. SiS has already announced support for the new FSB setting with its 748 chipset and I've received an unofficial confirmation that nForce2, as it stands, is ready to accept 400MHz FSB chips. Should Intel unveil its 3.2GHz Pentium 4 in the next few months, AMD will certainly need a faster Athlon XP to contend for the performance crown.

PCstats Polls!
Leaking Capacitors Poll:
Have you ever had a computer fail because of leaking or blown capacitors on the motherboard?
Click here to Vote!
---


Submit a product for Review