Nvida NV30 and Drivers

Hi,
When I sat down to work on this weeks newsletter I didn't realise it would be touching on no less than three reivews from the same Mfg'r. But here we are, and this week the PCstats.com newsletter looks at a Bluetooth enabled KT333 motherboard, a SiS 648 Pentium 4 motherboard with Gigabit LAN, and last but not least, a purple Geforce4Ti4600. What do each of these products have in common? Well, by chance they are all made by Micro Star International - or MSI as most people simply call them.
For a little variety I've also included a small roundup of Internet keyboards, and a quick look at WinTasks 4 Software. Till next week...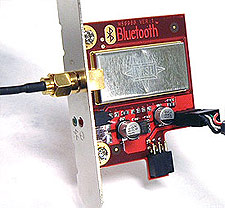 We really liked the original KT3 Ultra-ARU mainboard we reviewed earlier in the year. According to the specs the only difference between the two boards is Bluetooth compatibility, so what else is exactly new?

MSI have gone with red PCB's for all their flagship motherboards, and I must say they do look pretty good in the right light. These days, style seems just as important as performance!The KT3 Ultra2-BR has all the goodies we've come to expect out of a motherboard - onboard USB 2.0, 5.1 audio (software codec), five PCI slots, three DIMM's and now even Bluetooth!
Price Comparisons: A little price comparing first can save you from paying too much!
Shop for Video Cards
ATI, Visiontek, PNY, Others...
Motherboards
Abit, ASUS, iWill, Shuttle, Soyo, and More...
Processors
AMD / Intel
Memory
RDRAM, DDRAM, SDRAM

I was really excited about sitting down and testing this SiS 648 based motherboard. From what I've read the SiS 648 chipset is supposed to be a full-blown i850E/RDRAM killer and I really wanted to test this out first hand! Since I've just upgraded my home system to a P4 using the i850/RDRAM this was news I really didn't want to hear, especially considering all the good DDR I have lying around.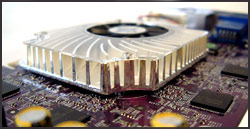 We liked the original MSI G4Ti4600-VTD but probably its biggest downside was a rather plain looking appearance (if you can call that a flaw). Style plays a key role in today's computer hardware market and the older plain green G4Ti4600-VTD is the technical equivalent of bell bottoms. To be honest it was a bit surprising to see that MSI's first GeForce4 Ti4600 was using the green PCB - after all their previous flagship videocard the G3Ti500-VTG was a rather spiffy red, and so are most of MSI's
| | | |
| --- | --- | --- |
| | | LIUtilities WinTask 4 Professional |
| I don't have to sit here and type in just how important it is work or game on a keyboard which is responsive, comfortable, and quick. After all, a keyboard is just a keyboard right? They are used for typing, and sometimes they get trashed by a spelt coffee, or can of coke. Keyboards, no matter how important they are to our ability to interface with computers are essentially disposable these days. If they show the slightest signs of wear or poor service they are tossed out and another $10 replacement is found. | | Upon opening up the WinTasks 4 Professional application I found that it looked a lot like the Task Manager found in Windows 2000/XP. WinTasks 4 allows a user to remove unnecessary processes, free up memory and CPU resources and even look for viruses and trojans! WinTasks 4 is fairly easy to use, at first when opening the program it can be a little overwhelming with the amount of information it supplies and with so many buttons it's easy to get lost. Because of this, it's recommended that users have prior knowledge of OS's. |
Colin's Weekly Tech Tips
---
By: Colin "3DMark" Sun

Fan noise and sandpaper?
Computer these days are getting faster and faster, and they're also producing more and more heat. Properly cooling the "hot spots" is getting more difficult so we often use higher speed fans, or even groups of them. The problem with more fans is obviously more noise.

One of my good friends recently told me a way I can lower the whine those 60mm delta's can produce. What you have to do is, get some 400-600 grit wet/dry sand paper and sand down the edge of the fan blades. This lowers the resistance and allows for air to move a bit easier. This also supposedly lowers the whine the fans produce by quite a bit!

Special thanks to my boy CygnusX1 for this tip!

Colin's Tech Tips have been archived for your reading enjoyment!

Have you stopped by the PCStats Forums yet? It's one of the fastest growing hardware communities and it needs your brilliant computer knowhow to become even better!
PCstats Issue No.54
Circulation 135,460
The High Tech Low Down
---
With C. Angelini

First, ATI released the RADEON 9000 Pro, which is able to beat NVIDIA's entire GeForce4 MX line. Then, the RADEON 9700 Pro found its way to retail shelves. A couple of weeks after ATI established itself as the new performance leader, the RADEON Mobility 9000 was announced. Surely NVIDIA is anxiously awaiting the day that the next-generation NV30 graphics processor will be publicly unveiled. At this point, it would even be great to see an NFORCE2 motherboard hit the market.
NVIDIA recently made available a beta Detonator driver that introduced several interesting features along with the promise of increased performance. While the features are undeniably present, new benchmarks have come under fire. Many claims indicate that the Detonator 40 drivers are using the same setting for 4-tap and 8-tap anisotropic filtering. While this has yet to be substantiated, NVIDIA has confirmed that if anisotropic filtering is set back to '0' after being used, image quality will suffer.
What can't be denied is that the new drivers enhance performance in games that make heavy use of pixel and vertex shaders (except for Comanche 4 - performance actually decreases in that one. At least we can be sure that the bugs will be ironed out before the drivers receive Microsoft WHCL certification.
---
Contest Corner
Giveaways brought to you by the PCstats.com Newsletter
---




Media and Advertising Enquiries.