Intel 3GHz on the Horizon


Hi,
This week saw the release of Intel's 2.8GHz Pentium 4, and several good signs that the fabled 333MHz AthlonXP is slowly coming out from the smoke. Abit sent us a little notice for instance that one of their motherboards will support 333MHz FSB. AMD has been pretty tight lipped on the matter, but if the mainboard manufacturers are starting to promote it, you have to wonder how soon the chip will follow.

This week we have Albatron's P4X845E Pro mainboard, Soyo's venerable P4S Ultra Dragon and a few other things I think you might find interesting. Abit's MediaXP bay for example, brings a tone of features to their line of legacy free boards - but unfortunately doesn't mix with anyone else's. Lastly we have a quick look at an 80GB HDD from Samsung which prides itself on its low noise properties. Till next week, enjoy the last long weekend of the summer!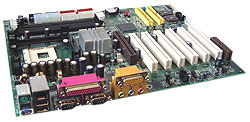 With the recent release of the 533 MHz based Pentium 4's obviously comes a whole slew of new chipsets to support the new bus speeds as well. The "new" i845E is basically the i845D that officially supports 133 MHz FSB and nothing else. Actually almost all i845D based boards could hit 133 MHz+ FSB's no problem and in fact if you search MadOnion's database you'll see several hundred i845D systems that are at 133 MHz FSB or well over!
The P4X845EPro is one of the most feature rich motherboards out there, Albatron threw in everything but the kitchen sink with this motherboard. There's one 4x AGP (with 1.5V lock), six 32-bit PCI slots onboard Ultra/133 IDE RAID, 5.1 audio, 10/100 LAN, three DIMM slots, four USB 2.0 and a CNR for good measure. Next thing to do is give their motherboards a pretty coloured PCB and they'd be set!
Price Comparisons: A little price comparing first can save you from paying too much!
Shop for Video Cards
ATI, Visiontek, PNY, Others...
Motherboards
Abit, ASUS, iWill, Shuttle, Soyo, and More...
Processors
AMD / Intel
Memory
RDRAM, DDRAM, SDRAM

The P4S Dragon Ultra itself is a very colour oriented system board; the PCB is black, and each of the components has been colour coded for ease of installation. The PCI slots are all purple, the IDE-RAID connectors are yellow while the primary and secondary are blue and white respectively. The memory DIMM's and FDD connector are both black, while the 4X AGP is brown and the socket 478 Beige.
The Soyo P4S Dragon is based on the SiS 645 chipset which was one of the first to bring DDR capabilities to the Intel Pentium 4 platform. With a bus speed of 400MHz, and support for up to 3GB of DDR333/DDR266/DDR200 memory there is plenty of room for power. Add to that the onboard 5.1 channel audio, and 6 PCI slots and you have one very fully featured motherboard. IDE RAID is taken care of with the highpoint controller chipset, and unlike some earlier mPGA478 mainboards only one extra 4-pin 12V power connector is required.
| | | |
| --- | --- | --- |
| | | Samsung SP8004H 80GB-7200RPM HDD Review |
| Abit recently stunned the world with the release of their MAX line of motherboards. The MAX line of motherboards are what they call "legacy free" motherboards which means they have no serial, parallel or PS/2 ports. The MediaXP bay fits into a regular 5 1/4" drive slot and has two USB 2.0 ports, one Firewire, a SPDIF output, a headphone jack, a microphone jack, a compact flash, memory stick, and secure digital card reader, and as if that weren't enough already, it even has an infrared port for a remote control. Not bad eh? | | Like most things, Samsung knows that diversity is the spice of life. From monitors LCD or CRT, to memory and even hard drives, if it has something to do with computers Samsung is usually close behind. Today we're looking at their 80 GB 7200 RPM Ultra/100 SP8004H hard drive which retails for $180 CDN.Samsung like most other hard drive manufacturers has not jumped on the Ultra/133 bandwagon rather they're going to be focusing on the new upcoming Serial ATA that's why their SP8004H is not Ultra/133 compliant. Still it does boast quite an array of impressive specs, the hard drive spins at 7200 RPM, uses two platters with an areal density of 40GB and has 2MB of cache. |
Colin's Weekly Tech Tips
---
By: Colin "3DMark" Sun

Dummy Programs giving you problems?
Do you have dummy (a dummy program is a program that is unistalled but is still in your "add/remove" options) installed programs in Add/Remove? It can be rather irritating especially when you're trying to keep track of what you have installed and what is not installed.

You can remove these entries with a bit of simple registry editing. Simply click the "Start" button then go to "Run". After type "regedit" and press the "Ok" button. After go to this location "HKEY_LOCAL_MACHINE\SOFTWARE\Microsoft\Windows \CurrentVersion\Uninstall". Expand the "Uninstall" directory and find the dummy entry's folder. After it's located, simply delete it.

If you do remove dummy entries this way, you'll notice that they're no longer in the "Add/Remove" options!

Please be very careful with this tweak, if you delete the folder of an installed program you will not be able to uninstall via the "Add/Remove" option.

Colin's Tech Tips have been archived for your reading enjoyment!

Have you stopped by the PCStats Forums yet? It's one of the fastest growing hardware communities and it needs your brilliant computer knowhow to become even better!
PCstats Issue No.53
Circulation 135,460
The High Tech Low Down
---
With C. Angelini

The most recent round of salvos has been fired in the ongoing battle between Intel and AMD. With a bit of strategic marketing, AMD launched the Athlon XP 2600+ with only one catch - the processor will not be available until sometime in September. The new chip fares very well against Intel's 2.53GHz processor, but the flagship 2.8GHz Pentium 4 remains the performance leader.
Both the Athlon XP 2600+ and 2.8GHz Pentium 4 are products of a revised core. AMD's "Revision B" Thoroughbred core is showing strength up to 2.4GHz, while samples of the "C1" stepping Northwood core are exceeding 3GHz in an overclocked environment. Intel is clearly on track to officially hit 3.06GHz by the end of the year.
Meanwhile, AMD will concentrate on pacing with the Pentium 4 until the K8 architecture is ready. To begin with, the 333MHz front side bus will debut sooner than expected - the upcoming Athlon XP 2700+ reportedly supports the 333MHz bus speed (introduced with the NFORCE2 chipset). Of course AMD needs to first concentrate on supplying Athlon XP 2600+ processors to eager enthusiasts. For the time being, AMD's fastest product is little more than a good idea. Hopefully, the situation will change come next month...
---
Contest Corner
Giveaways brought to you by the PCstats.com Newsletter.
---
. Tell all your friends that next month if they sign up for the PCstats.com newsletter they'll be entered to win 1 of 2 notebooks!





Media and Advertising Enquiries.