Hi there,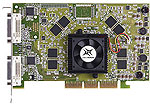 With the end of Computex 2002 we have an abundance of techno-trends to digest; Serial ATA, Hammer processors, legacy-free motherboards, exotic heat-pipe based heatsinks, and 533MHz P4 / AMD Thoroughbred AhtlonXP mainboards.
But even more interesting is the glimpse Matrox gave the world of the Parhelia-512 GFX card this week. The way things are headed, it's a wonder software can even keep up... This week we have a look at the just released Nokia 9290 Communicator, a sound controlling hard drive cage, ultra low-noise power supply and Colin's report from a recent AMD Tech Tour. Enjoy!
And hey, remember to stop by the forums and enter the Tips Tricks and Techniques contest - there is a handful of Crucial PC2700 DDR to be given away but it won't last much longer! Check out Contest Corner for our latest giveaway for newsletter subscribers only!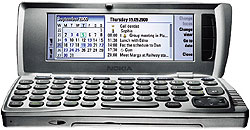 Cellphones are rapidly approaching the crest of full-fledged Personal Digital Assistants (PDA), and the über new Nokia 9290 is a shining example of this accelerating trend. Not only is the 9290 Communicator a GSM 1900MHz cellphone, but by flipping open the handset a full colour LCD screen and QWERTY keyboard are revealed.

The best part about the Nokia 9290 communicator is that not only can you receive and open email with attachments like pictures, or .doc files, but you can also edit them. With an infrared port it is possible to take pictures from a suitably equipped digital camera, transmit them over to the 9290 and then email those images to a friend.

Article Link: http://www.pcstats.com/articleview.cfm?articleID=1064



In the old days hard drives used to be a big source of vibration and mechanical noise. The spindle and the read/write heads would often sound like they were grinding away like sandpaper on wood. Things have changed remarkably in just the last few years, but some hard drives can still be sources of annoying vibration and noise.To counter this you can use various software utilities which force the hard drive to sleep or otherwise spin down when not in use. Some companies even offer little black boxes so you can lock the drive away.

Article Link: http://www.pcstats.com/articleview.cfm?articleID=1034

Zalman's claim to fame has always been "noise prevention" and the Zalman 300W ST-300BLP is the quietest PSU we've ever used. In fact, it measures less than 25 dB loud so it is virtually silent in operation, and this has a lot to do with the fan and how slow it rotates.The Zalman ST-300BLP supplies 300W of power to today's AMD or Pentium 4 systems.With its fan running at 1500 RPM at 25 degrees Celsius or below, it's almost impossible to hear unless your head is right next to the fan.

Article Link: http://www.pcstats.com/articleview.cfm?articleID=1110

AMD's Tech Tour is a special event which has been travelling around North American cities for the last few months. The purpose of the Tech Tour is to promote AMD products to resellers, and inform them of upcoming advancements & technologies - like the K8 for instance. The AMD Tech Tour also features a lot of information from vendor partners (video card, motherboard, etc.) and even though we would all like to attend, it is closed to the public.

Off to one side was a room was where the manufacturer/distributors showed off their wares. The first booth we hit was nVidia's. On display was a MSI based nForce system with a GeForce4 Ti4600. The system was showing off the wolf man demo on dual displays and the crowd loved it. Next up was Soyo and their cool looking Dragon motherboards. They had the KT333 Dragon Ultra (Platinum and Black) as well as their KT333 Dragon Lite.

Article Link: http://www.pcstats.com/articleview.cfm?articleID=1132

Colin's Weekly Tech Tips
---
By: Colin Sun

Do too many programs eat up your system resources at startup? You can simply remove them via MSCONFIG (not available for Win2k).

Go to Start -> Run. There type "MSCONFIG" and press enter.< P >From there you should see a "StartUp" tab. From there you will see a whole slew of check boxes un check whatever you don't want starting up. For Win9x/ME users do not un check "Scan Registry"!

You're not deleting any programs, what you're doing is simply stopping programs from loading at startup. If there's a program that you want to load, simply start it from going to the start menu. You'll notice now that you have many more system resources available for applications now then before!

For more insight into the world of tweaks, track down Colin in the PCstats forums for some Q & A
Visit the PCStats Forums today, it's one of the best hardware communities there is around and you can speak your mind about anything from computer hardware to music or even talk about how your team is doing in the World Cup! Join right here.
PCstats Issue No.44
The High Tech Low Down
---
With C. Angelini
ATI celebrates the fact that their "next-generation" graphics processor powered the Doom III demonstration at E3 this year and was faster than anything NVIDIA had to offer at the time. It is currently speculated that the upcoming R300 graphics processor will be manufactured on a .15-micron process and include nearly 107 million transistors (nearly twice that of the Pentium 4!). More importantly, though, it is also rumored to include full DirectX 9 compliance. I'd expect to hear more from ATI this coming fall - good news for returning college students needing something to do other than study.
Not much has been said about NVIDIA's upcoming NV30 processor other than it will utilize close to 120 million transistors. DirectX 9 support would also be a logical guess, considering that it will likely debut sometime after ATI's R300.
I have had the opportunity to play around with Matrox's Parhelia-512, and while it won't compete with next-generation hardware in terms of raw performance, it does incorporate several features intended to improve picture quality. With four vertex shader pipelines, the Parhelia should prove to be a formidable adversary in upcoming games. Reviews of the Parhelia-512 may begin emerging as soon as the end of this week.
Of course, silicon is often buggy, drivers take time to mature, and release schedules often slip. The graphics industry will clearly command the spotlight for the next few months and I can't wait to see what emerges.
---
Contest Corner
What you can WIN as a PCstats newsletter subscriber.
---
·Sony DCJ01 MP3/CD Player
· WIN one of 8 Bluetooth motherboards starting June 24th!