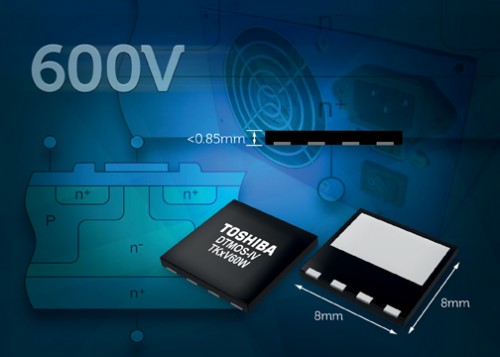 Toshiba Electronics Europe (TEE) has announced that its next-generation superjunction (SJ) DTMOS-IV power MOSFET technology is being made available for the first time in small outline, low-profile DFN packaging. New 600V DTMOS-IV MOSFETs in a DFN package will be ideal for high-speed switching in power supplies, lighting ballasts and other applications requiring a space-saving alternative to more conventional D2PAK and DPAK devices.

Offering current ratings from 9.7A to over 30A, the new devices in the TKxV60W family of 600V MOSFETs have ultra-low on resistance (RDS(ON)) ratings from 0.38? to just 0.098?. A leading RDS(ON)*Qg figure of merit ensures high-efficiency switching while a low output capacitance (Coss) supports optimised operation at light loads. Each device also incorporates an additional sense pin for direct driver connection.

Toshiba's DTMOS-IV process delivers MOSFETs that exhibit a better temperature coefficient of RDS(ON) than alternative devices. This allows efficiency benefits to be realised even during high-temperature operation. As with other devices in Toshiba's DTMOS-IV family, the new DFN MOSFETs have an optimised gate-drain capacitance (Cgd) that delivers improved dv/dt switching control. Support for lower dv/dt ratings also helps to reduce the tendency to ringing in high-speed switching circuitry.

At 8mm x 8mm the DFN package has an outline that is 20% smaller than a D2PAK package. A profile of only 0.85mm is almost three times lower than a traditional DPAK and over five times lower than a D2PAK.

Toshiba uses the deep trench process in its DTMOS-IV fourth generation single-epitaxial superjunction MOSFET. This allows closer trench pitch compared to the third-generation (multi-epitaxial) process, leading to a 30% better on-state resistance for a given die area.