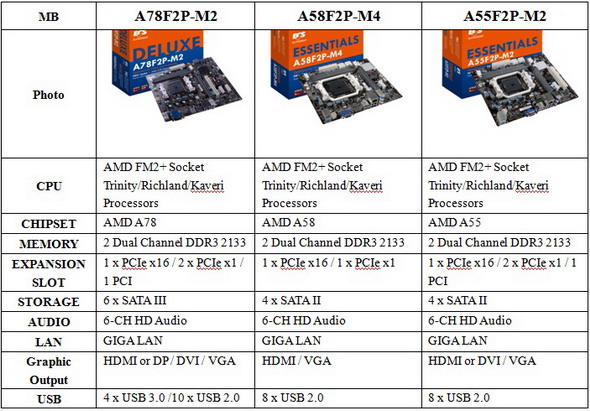 Elitegroup Computer Systems has announced a whole new range of AMD FM2+Platform motherboards---A78F2P-M2, A58F2P-M4, and A55F2P-M2, featuring the new AMD FM2+ APU socket. The FM2+ socket adds a host of powerful new features from the Kaveri Technology platform. ECS AMD FM2+ motherboards offer native support for PCI Express Gen 3.0 as well as DirectX11.1 support integrating the high performance "Steamroller" core. In addition, ECS AMD FM2+ motherboards provide native 4K resolution for ultimate visual experience.
AMD A-Series APUs with AMD Radeon™ R7 graphics are designed with game-changing new features that deliver superior computing and heart-pounding gaming performance. AMD Radeon™ graphics is based on the new intelligent computing architecture to optimize users' visual experiencewith the most advanced graphical technology.
DirectX® 11.1 is the very latest in high-speed, high-fidelity gaming and computing. Featuring technologies like Compute Shaders, Direct3D, Multithreaded Rendering and Tessellation for rich realistic graphics and fluid gameplay performance.
Support for UltraHD (4K) resolution and new video post processing enhancements for premium gaming experience with 2.6x graphics improvements.
All ECS FM2+ motherboards are certified with ECSDurathon durability technology which includes Triple Density PCB, Extreme Temperature Resistance, 1.5K Point Marathon Testing, and Superior Solid Capacitors designed to greatly improve motherboard quality, stability and longevity. With Durathon Technology, ECS AMD FM2+ motherboards go above and beyond industry standards to ensure that you have a motherboard that will last long and always continue to outperform the competition.
Additional features of new ECS AMD FM2+ motherboards include RAID 0, 1,10 support for full internal ports for a rapid storage speed, PCI-Express Gen.3 x16 bus designed to optimize the external graphical display, USB 3.0 for a faster data transfer rate, 4K resolution displays support on HDMI port, 2 DDR3 2133 MHz DIMM slots for up to 16GB RAM.