Rogers comunications wins the honour of WORST in
Netflix' just released Canada ISP Speed Index. According to Netflix, Rogers comes in with an average spped of 1.67 Mbps, while competing services such as TechSavvy score and average speed of 2.76 Mbps. The fastest service, according to Neflix is Bell Canada - Fiber Optic with an average speed of 3.19 Mbps.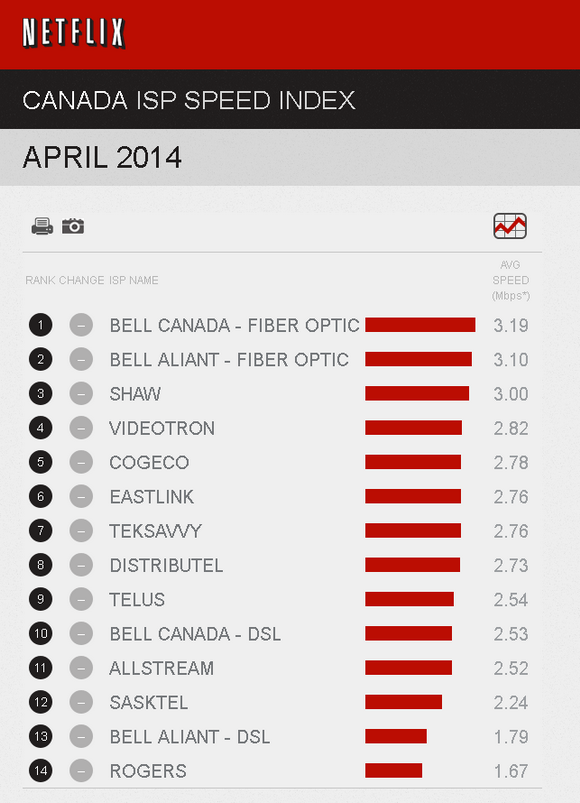 "The Netflix ISP Speed Index is a monthly update on which Internet Service Providers (ISPs) provide the best primetime Netflix streaming experience. As a country, the average speed for Netflix in Canada beats that of the United States, but ranks below most European nations.
The Netflix ISP Speed Index is based on data from the more than 48 million Netflix members worldwide who view over 1 billion hours of TV shows and movies streaming from Netflix each month. The listed speeds reflect the average performance of all Netflix streams on each ISP's network and are an indicator of the performance typically experienced across all users on an ISP network. A faster network generally means a better picture quality, quicker start times and fewer interruptions.
Note: the average performance is below the peak performance due to many factors including the variety of encodes Netflix uses to deliver the TV shows and movies as well as the variety of devices members use and home network conditions. These factors cancel out when comparing across ISPs."