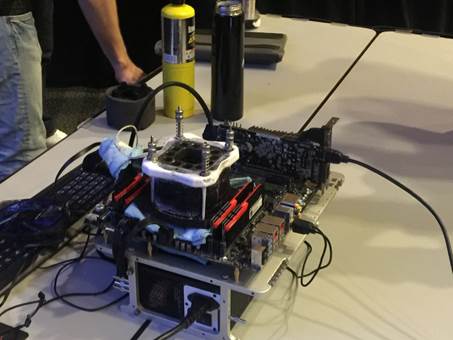 G.SKILL International Enterprise Co., Ltd., the world's leading manufacturer of extreme performance memory and gaming peripherals, displays two super-large capacity DDR4 memory kits at ultra-high speeds with amazingly low CAS latencies at the Intel Developer Forum 2016 this week in San Francisco, including the Trident Z series DDR4-3333MHz CL14 128GB (8x16GB) and DDR4-3333MHz CL13 64GB (8x8GB) memory kits. Both kits are featured with high performance Samsung DDR4 8Gb components and operate on the latest Intel X99 platform with Broadwell-E processors.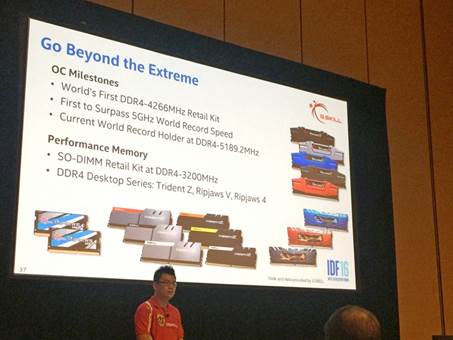 .SKILL is dedicated to pushing the performance limit of DDR4 kits to new heights with the latest platform generations. With the launch of Broadwell-E in May 2016, G.SKILL is pushing a 128GB (8x16GB) kit of the high end Trident Z series to a blazing DDR4-3333MHz frequency at a very tight timing of CL 14-14-14-34. Featuring the Intel Core i7-6800K processor and ASUS ROG Rampage V Edition 10 motherboard, this is one of the highest performance memory kits with such massive capacity.
On a similar platform, featuring the Intel Core i7-6800K processor and ASUS X99-Deluxe II motherboard, G.SKILL also demonstrated an 8-module kit at 64GB (8x8GB) memory capacity at DDR4-3333MHz CL13-13-13-33. This milestone displays the awesome achievement of combining high frequency, high capacity, and ultra-low latency.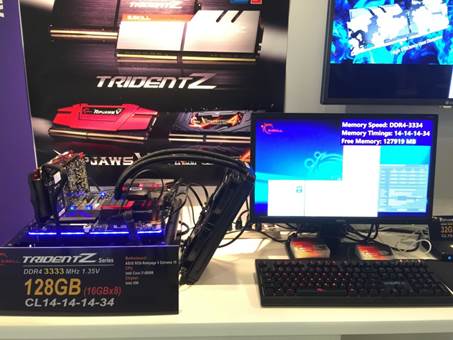 Building upon the leading overclocking technology from desktop memory, G.SKILL is also able to showcase extremely fast SO-DIMM DDR4 memory at DDR4-3333MHz CL16-18-18-43 32GB (2x16GB) on the Intel Skull Canyon NUC mini-PC system, which would prove useful for increasing performance on the integrated graphics of this portable system.

Besides the extreme DDR4 demo in the technical showcase, G.SKILL participated in the "Overclocking Innovation" technical session, co-hosted with Intel and ASUS, to share the latest memory overclocking technologies, particularly on the Broadwell-E platform and high density DDR4 memory, to worldwide tech medias, hardware developers, and industry analysts. Additionally, a new 5731.78MHz world record for highest CPU frequency was achieved live during the session by Elmor, a renowned extreme overclocker from ASUS, using G.SKILL Trident Z DDR4 memory, ASUS ROG Rampage V Edition 10 motherboard, and Intel Core i7-6950X processor. The score has been validated by HWBOT.ORG, the world's leading overclocking organization. Please refer to the link below:

Finding the right software program to clone a hard drive is one thing, but how about cloning Microsoft WindowsXP and the rest of a computer in one go? This guide to Cloning an Operating System explains all the steps involved. - PCSTATS Tips