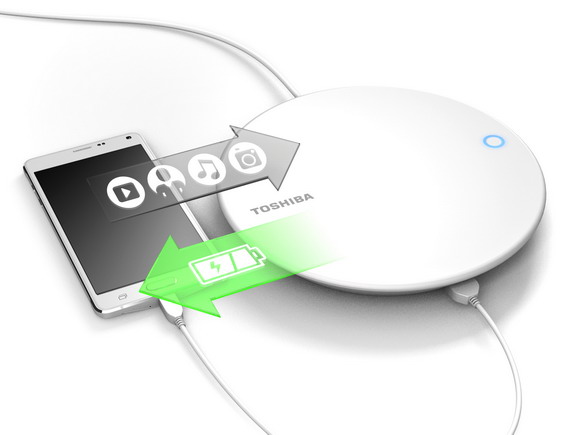 Toshiba Electronics Europe GmbH, Personal Storage Division has announced it is now shipping the 'CANVIO for Smartphone', an innovative portable storage device for backing up and charging[1] Android™[2] phones in a single operation.
It is estimated that a small minority of smartphone users have backups - and just 8% backup their phones regularly (survey conducted by AVAST)[3]. The CANVIO for Smartphone backs up and charges a connected phone in one single user operation, meaning that users will be able to feel peace of mind about saving important personal data such as photos, videos, music, documents, and contacts. Backups[4] are automatically created each time the smartphone connects without the need for user intervention and after activating this function in the intuitive Android app.
As well as smartphone charging and backup, the CANVIO for Smartphone allows users to manage data via their phones using the app. At the same time the device can simplify the set-up of new smartphones by providing an easy route to transfer data from an old phone with just a few taps. For PC users, the CANVIO for Smartphone can still be used as a conventional external hard drive, backing up data via USB Type-A and USB Type-C™[5] interfaces. Finally, it can be shared by several devices, enabling multiple users to benefit from data backup and data sharing.
"Thousands of mobile phones are lost, stolen, dropped and broken every day, yet most users backup the data on their phones infrequently, if ever at all," says Lorenzo Martinez-Palomo, General Manager of Toshiba Electronics Europe GmbH, Personal Storage Division. "Charging phones, however, is something that users have to do regularly. By providing charging and storage, the CANVIO for Smartphone provides an elegant 2-in-1 solution that gives users the peace of mind that their precious personal data will be backed up every time the phone is charged."
The CANVIO for Smartphone features a sleek, stylish, circular white casing and has a storage capacity of 500 GB[6]. The device is supplied with an AC adapter, a USB 2.0 Micro-B cable, a USB 2.0 Type-C cable and a USB Micro-B - Type-A adapter.