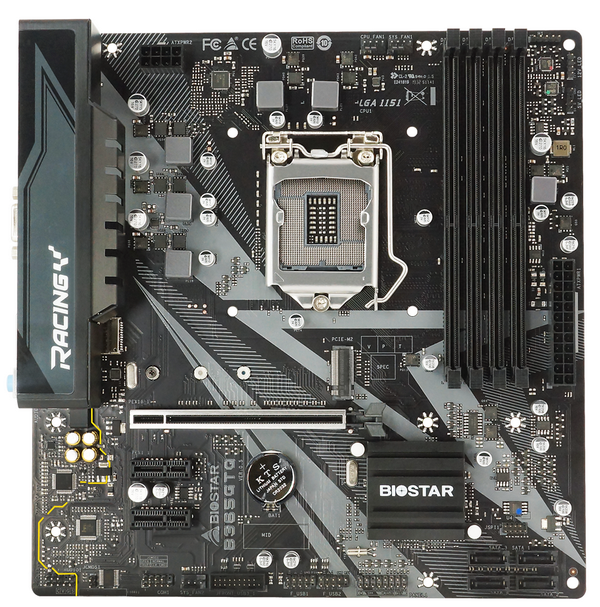 BIOSTAR, a leading manufacturer of motherboards, graphics cards, and storage devices, is proud to include a new micro ATX form factor to its latest generation of RACING motherboards with the BIOSTAR RACING B365GTQ. Built to last with durable components, this new reliable Intel platform is a dream motherboard for gamers looking for a compact solution, and for content creators needing something budget friendly that is capable to support high-end CPUs and graphics card. Sporting the edgy and futuristic look of the RACING series as well as an impressive set of advanced features, the RACING B365GTQ is certain to deliver great performance and hold a unique place in any build configuration.
The BIOSTAR RACING B365GTQ, equipped with the latest Intel B365 chipset, brings support for the 9th & 8th Generation Intel Core processors, a true game changer for today's gamers and content creators. In addition, the PCI-E M.2 32Gb/s support (with Intel Optane Technology Ready) gives the user rapid access to their games or software by improving the system boot time and boosting the bandwidth to their traditional stored devices. Equipped with USB 3.1 Gen1 (5 Gb/s) for an easy plug-and-play experience as well as faster transfer speed (compared with USB 2.0), the BIOSTAR RACING B365GTQ also supports HDMI 4K resolution for a better than life visual gameplay, and up to 64GB of DDR4 memory to give the user plenty of RAM to multitask while editing videos or creating 3D renders of complex parts.
The RACING B365GTQ sports a bold grey and black design with a futuristic heatsink to make every build a pleasant one to look at, and is paired with the LED ROCK ZONE which features an RGB 12v header and a digital 5v header. Combined with the VIVID LED DJ software, enthusiasts have full control over the customization of their system's LEDs, be it their fans, LED strips or memory modules, and can create a build unique to their style.
Give your gaming experience a boost with the Intel B365 Chipset and the 9th & 8th Generation Intel Core processor. The Intel B365 chipset provides you with the power and performance you need to outrun your opponents, get that first kill, and be at the top of your game.
PCIe M.2 32Gb/s is the latest storage interface, it delivers the highest bandwidth and lower latency. It is 3 times faster compared with PCIe M.2 10Gb/s.
Adjusting the color of LED and changing system colors by VIVID LED DJ gives users complete control over the process of PC modding, helping to develop their personal style. Users can fully customize the on-board LEDs, as well as the external LED devices such as LED strips, LED fans, and RGB LED memory modules.
BIOSTAR incorporates the Intel Optane memory technology to enhance the performance of your PC by accelerating traditional storage devices to reduce boot times and improve the overall performance without adding an SSD.
The BIOSTAR RACING B365GTQ rear I/O features: 1 x PS/2 keyboard port, 1 x HDMI port, 1 x VGA port, 1 x GbE LAN port, 4 x USB 3.1 Gen1 (5Gb/s) ports, 2 x USB 2.0 ports and 3 x audio jack.