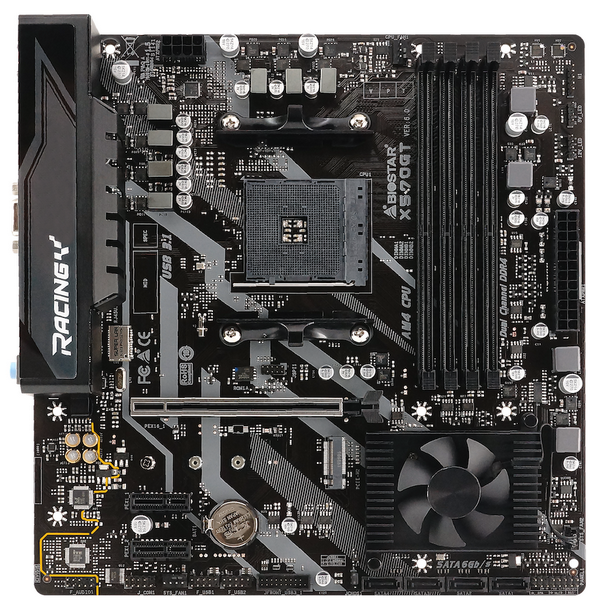 BIOSTAR, a leading manufacturer of motherboards, graphics cards, and storage devices, is proud to launch the latest addition to its 4th generation of RACING motherboards with the compact yet very capable BIOSTAR RACING X570GT. Aimed at gamers who don't want to compromise on their gaming experience and overclockers looking for that extra push of performance, the RACINGX570GT is the motherboard that supports a lightning-fast and ultra-responsive gameplay experience. The RACING X570GT is tastefully designed with the iconic RACING Gen 4 features and grey lightning strikes that give the users the competitive edge needed to defend themselves in the gaming world.
The BIOSTAR RACING X570GT, equipped with the latest X570 chipset for AMD socket AM4, brings support for 3rd Gen Ryzen processors, and provides PCI-e 4.0, which doubles the bandwidth of PCI-e 3.0. It also supports 4-DIMM DDR4. In order to provide the user with the best compact gaming machine possible, the RACING X570GT also features USB 3.1 Gen1 support (5 Gb/s), PCI-e M.2 4.0 support (64 Gb/s), as well as HDMI 4K resolution. And with overclockers in mind, up to 128GB of DDR4 memory spread over the 2-DIMMs can support overclocks of 4000+MHz for unparalleled responsiveness.
AMD X570 is the high-end chipset for overclockers and tweakers who need a robust platform. This chip provides the ultimate low-level control to its users and delivers ultimate graphics card bandwidth. PCI-E 4.0 is the next evolution of the ubiquitous and general-purpose PCI Express I/O standard. At 16GT/s bit rate, the interconnect performance bandwidth is doubled that of PCI-E 3.0, while preserving compatibility with software and mechanical interfaces. PCI-e M.2 4.0 is the latest storage interface, it delivers the highest bandwidth and lower latency. It's two times faster compared with PCI-e M.2 3.0. DDR4 Memory delivers higher performance, higher DIMM capacities, improved data integrity and lower power consumption. Raising up to 128GB the maximum capacity and 4000+(OC) MHz of DDR4 memory for multi-applications and better performance. The BIOSTAR RACING X570GT rear I/O features: 1 x PS/2 Keyboard/Mouse, 1 x HDMI Port, 1 x VGA Port, 1 x GbE LAN port, 4 x USB 3.1 Gen1 (5Gb/s) Ports, 2 x USB 2.0 Ports and 3 x Audio Jack.
Ever had problems with broswer hijacking? Be prepared for the next attack by turning Windows update on, and reading the guide to Browser Hijacking and How to Stop It. - PCSTATS Tips