GIGABYTE TECHNOLGY Co. Ltd., a leading manufacturer of motherboards and graphics cards, today announced its participation at the Consumer Electronics Show (CES) in Las Vegas where it is debuting a number of new and exciting motherboard technologies that will be central to it's motherboard design in 2012 and beyond. International media and customers will get a sneak peak of GIGABYTE's new technologies at their suite in The Venetian Hotel, Las Vegas, from January 10-13.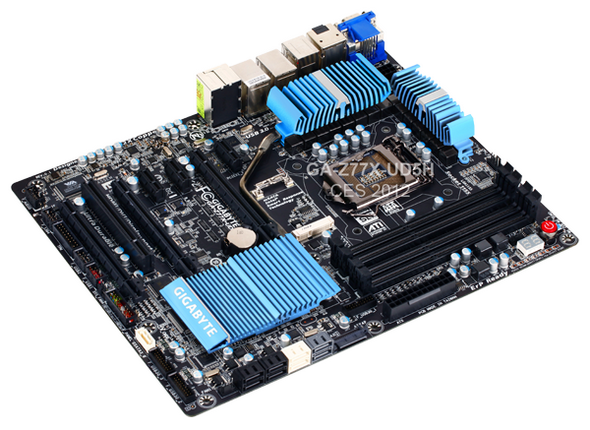 Gigabyte GA-Z77-UD5H Intel z77 / LGA1155 motherboard with mSATA
3D Power: Frequency, Voltage and Phase Control
GIGABYTE is showing forthcoming 7 series motherboards featuring the very latest in CPU power delivery with GIGABYTE's unique Digital Power Engine called 3D Power. Offering digital control over all the main onboard power zones, this new digital PWM design allows users to manipulate and monitor the power provided to 2nd Gen Intel® Core™ and Next Gen processors for the LGA 1155 socket.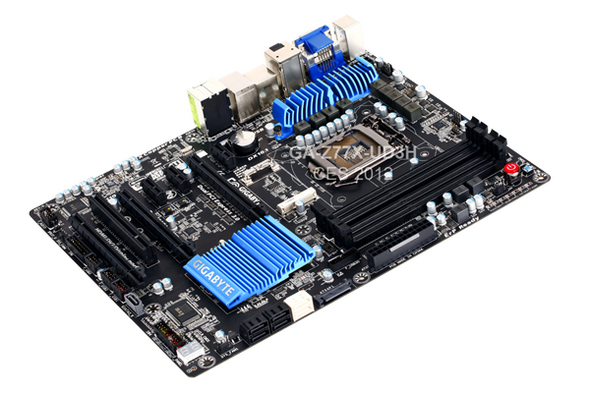 Gigabyte GA-Z77-UD5H Intel z77 / LGA1155 motherboard with mSATA
"We are very excited about the new technologies that will feature on our 7 series motherboards, and are confident that our customers will find them, together with the performance and feature improvements on Intel's future platform, extremely appealing," commented Henry Kao, Vice President of GIGABYTE Motherboard Business Unit. "Product development and debugging for the new features is progressing really well, and we expect to have a full range of products available globally by launch day."

GIGABYTE 3D BIOS (Dual UEFI)
Visitors to CES 2012 will be able to see the 2nd iteration of GIGABYTE's revolutionary 3D BIOS that is based on GIGABYTE UEFI DualBIOS™ technology. 3D BIOS offers two distinct modes of interaction in a BIOS environment, 3D Mode and Advanced Mode, that re-draw the traditional BIOS user experience with a far more intuitive and graphical interface.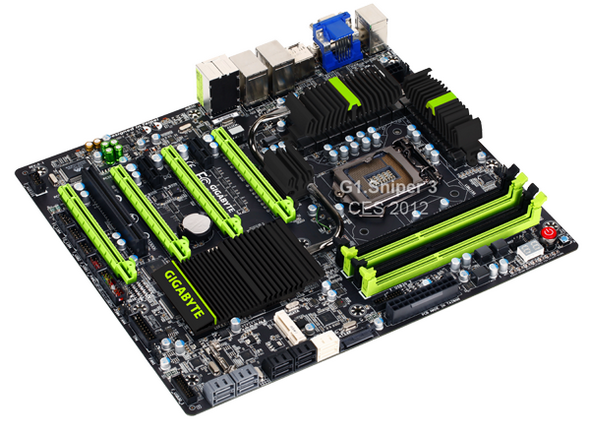 GIGABYTE G1.Sniper 3 Intel z77 Gaming Motherboard
G1.Sniper 3 Debuts with Dual LAN
The G1.Killer gaming motherboard series continues to evolve with two new GIGABYTE 7 series models planned for launch later this year. The G1.Sniper 3 motherboard features onboard Creative gaming audio together with a dual LAN configuration of Intel® Gigabit and Killer™ Game Networking controllers. Visitors to Las Vegas will also be among the first to see the G1.Sniper M3, a gaming motherboard with signature G1.Killer DNA in a compact Micro-ATX form factor.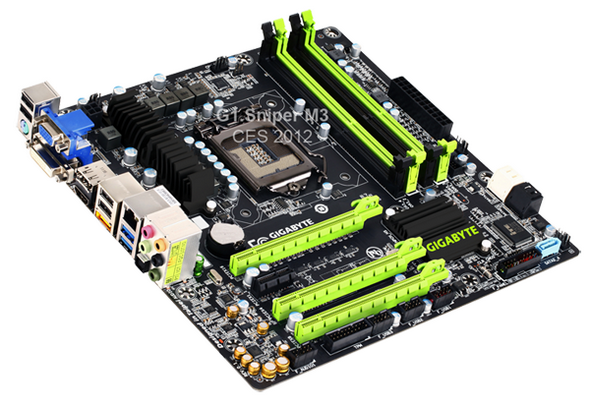 GIGABYTE G1.Sniper M3 Intel Z77 (Micro ATX) Gaming Motherboard
Powering the Personal Cloud: Bluetooth 4.0/Wi-Fi PCIe Card
Selected GIGABYTE motherboards will come with an exclusive PCIe expansion card that offers support for the latest Bluetooth 4.0 (Smart Ready) and Wi-Fi connectivity standards. With the growing availability of affordable or free remote PC operation software, such as Splashtop and VLC Remote, GIGABYTE believes that now is the time to explore and enjoy the home cloud: a personal cloud within the secure environment of a home network where the performance and functionality of desktop PCs can be utilized and controlled by portable cloud devices.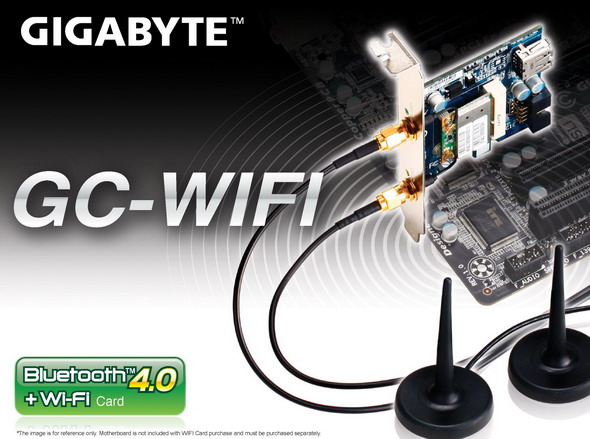 With this in mind GIGABYTE has introduced their CloudStation utility that will help future GIGABYTE Apps to communicate, share resources and control desktop PC systems.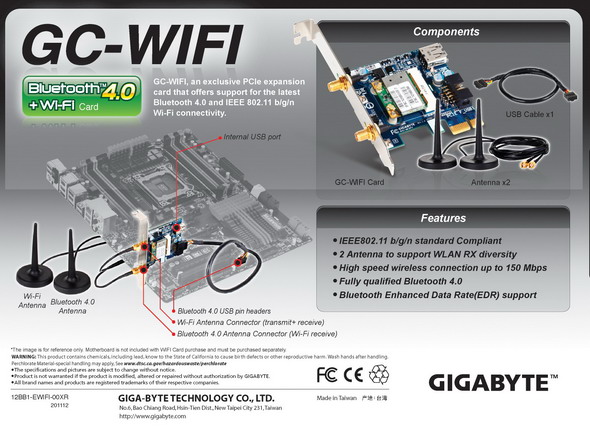 Most ATX form factor GIGABYTE 7 series motherboards will enjoy an onboard mSATA connector that, together with GIGABYTE's EZ Smart Response technology, will allow users to simply and cost effectively enjoy better responsiveness from their PCs. mSATA solid state drives have been made popular by the rapid growth of tablet PCs, and provide a cheaper solution for smart chaching because they are available in smaller capacities than traditional SSDs.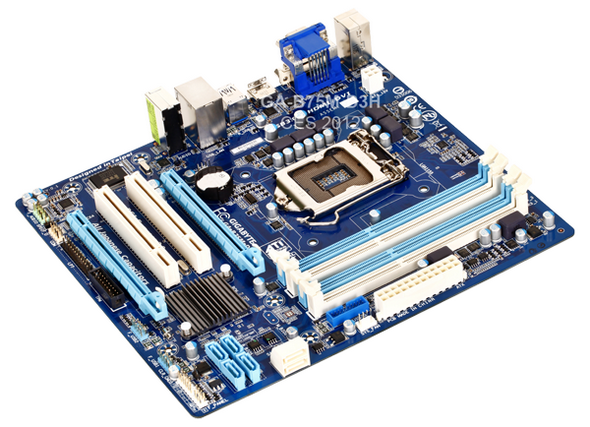 Small Business Solutions
Setting its sights on the small business market, GIGABYTE will demonstrate the B75M-D3H motherboard that represents a new product range featuring the ability to remotely monitor and manage PC health, installed software, data backup, energy saving and connectivity. This allows system integrators to add value to their products by offering these services to small businesses with between 1 and 6 PCs. Key features and selling points for these models will be manageability, affordability and GIGABYTE's Ultra Durable design quality.
Join GIGABYTE at the Venetian in Las Vegas, Suite 26106.
You do software updates to get the most from favourite programs right? Updating a motherboard BIOS can in a timely manner is also critical. The guide to Flashing a Motherboard BIOS spells out the often complicated steps in plain english. PCSTATS Tips