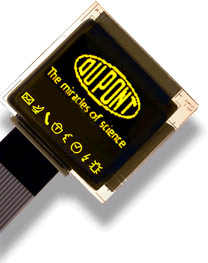 DuPont Displays Ships Evaluation Kits For OLED Display Technology DuPont Displays Commercializes Next Generation of Flat Panel Displays
WILMINGTON, Del., Dec.18, 2002 – DuPont Displays, a business unit of DuPont (NYSE: DD) and a leading developer and manufacturer of OLED technology, has announced that it is shipping evaluation kits to customers for its first generation OLED products. The evaluation kits from DuPont Displays are available for customers to perform hands-on evaluations of OLEDs for small, single color display applications and advances the commercialization of OLED technology.
A select number of customers have been engaged in evaluating OLEDs from DuPont Displays since the summer of 2002. By now taking orders for the evaluation kits, DuPont Displays has opened the channel from a narrow set of development partners to a broader set of customers that will accelerate its OLED commercialization activities.
With the evaluation kits OEMs can integrate OLEDs into new product designs, build OLEDs into their roadmaps and take advantage of the technology's unique features. OLED displays are self-emissive, eliminating the backlight necessary in LCDs. The superior brightness and contrast ratio of OLEDs create a crisp, sharp image. OLEDs also support moving images with fast response times and offer wide viewing angles without image inversion or loss of contrast ratio, all of which contributes to a superior front of screen performance in comparison with monochrome LCDs.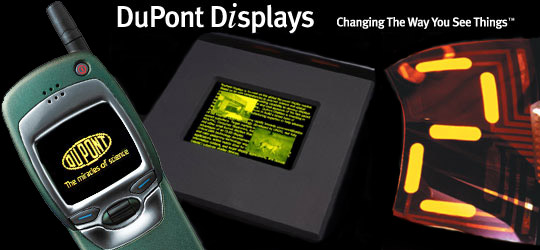 "The availability of our evaluation kits marks a significant commercialization milestone for DuPont Displays and the OLED industry," said Tom Miller, president and general manager of DuPont Displays' passive matrix business. "We have now moved to the next phase in our customer engagement. This evaluation kit offers OEMs the opportunity to use OLED technology in creating valuable product differentiation. Our customers can now apply our OLED technology to a wide variety of products to enhance the user experience."
DuPont Displays has assembled a portfolio of patents and licenses for a broad roadmap of OLED products that will meet the needs for a new kind of flat panel display. With a pilot line in Santa Barbara, and a full production line with RiTdisplays in Hsinchu, Taiwan, DuPont Displays has the manufacturing know-how and capacity to significantly serve the OLED market. Initial applications for OLED technology are expected in consumer, industrial and medical applications. Full color displays with video capability and eventually flexible displays on plastic substrates represent DuPont Displays future product offerings.