Firefox (like Mozilla) has been in development for a while, slowly perfecting its browser technology on both Windows and Linux platforms. It shows. Firefox is a startlingly mature product, full of features but just as easy to use as IE has proven to be. For a browser to gain mass adoption, this is an essential characteristic. PCstats is going to explore the features and capabilities of Firefox 1.0 as compared to the XP Service Pack 2 update of Microsoft's Internet Explorer 6. We're looking for useful features, innovation and ease of use, as well as security. If you're trying to figure out whether to make the switch to Firefox, this is the article for you.
Firefox is very simple to get up and running. The 4.7MB download size will cause no pain, even for 56K modem users. Once installed, you can make Firefox your default browser by going to the 'tools\options\general' tab and highlighting the option. Without this, Firefox will not make itself the default browser, nor prompt you for permission to do so. Such a polite boy! Whether it is the default browser or not,Firefox will coexist peacefully with Internet Explorer.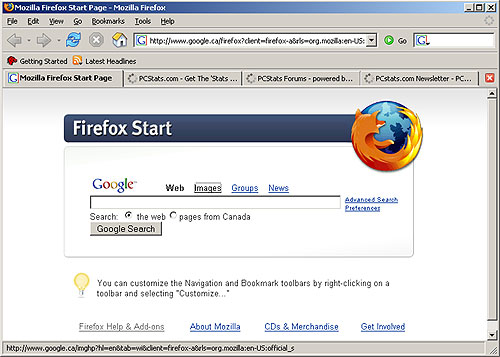 One nice addition to the standard browser menu list is the 'go' bar that Firefox uses. This functions as a sort of 'recent history' button, in that it stores the last ten pages you have visited in any Firefox window or tab. This is a good idea that can speed up your browsing. The 'go' menu also links to the actual browser history.
Features overview: What Firefox has to offer
We'll cover these features in detail later, but for now here's brief synopsis:
popup blocking
tabbed browsing
central download manager
themed interface
built-in theme/plugin browsing and installation
'master password' for protecting saved web passwords
enhanced website information
Now let's take a closer look at some of these features, starting with one of Firefox's most innovative features, tabbed browsing.