The Asus WL-330 is a tiny wireless access point so nondescript as to be practically invisible; in fact it is about the size of a lighter. The unit supports 11Mbps 802.11b wireless, and is designed to act as a wireless access point, or wireless adaptor in a pinch. For example, we originally picked up this neat little gadget at CES 2004, and since then it has been to used at a couple different technology trade shows including Computex in Taiwan.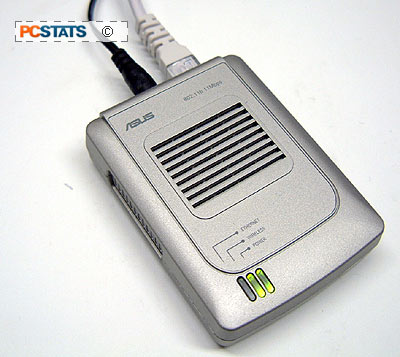 The beauty of the Asus WL-330 is that it can bring wireless network access to the base of PCstats mobile operations - ye old hotel room. The WL-330 could just as easily be applied in a conference room to an existing Ethernet network, allowing room-wide wireless networking for several users, as all the necessary components (power, network cable, and itself) fit into a small paperback-sized black nylon travel case.
The unit is a true travelers friend too. After a long day walking through exhibition buildings at a trade show like CES, it makes it quite convenient to use a wireless equipped notebook in the hotel room to check email, and get the work done. Since hotels offer their in-room internet services differently, all you need is a nearby power socket, and an RJ-45 ethernet jack to plug the Asus WL-330 into, and you're good to go... So handy is the Asus WL-330, that it has become an essential bit of kit when travelling.