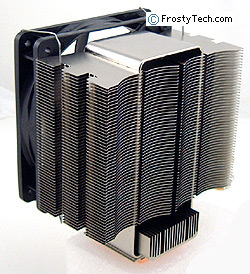 "The Scythe Shogun is a large low noise heatsink built around a fairly recent heatpipe technologies. It works quietly enough to be a welcome replacement for computers using the stock Intel Pentium 4 or Athlon64 heatsinks, its large size and large fan efficiently move a large volume of air slowly through the many cooling fins.

The Scythe Shogun weighs in a hefty 790 grams, and stands to a towering height of 147mm above the CPU.

The heatsinks' 120x120mm hypro-bearing fan spins at between 700RPM-1600RPM, while producing at most 45.9 dBA in our real world tests. Socket 775/478 Intel Pentium 4 and socket 754/940/939 AMD Athlon64 processors are supported by this model."