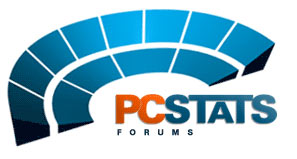 There's little doubt that the PCStats Forumsare one of the friendliest places on the web to chat, whether you're an experienced Liquid Nitrogen cooling guru, or complete tech newbie.

If you have questions, you'll find the answers in the PCStats Forums! Of course there's more to life than computers, members are more than welcome to discuss pretty much anything from sports to their favorite tunes. If you feel like blowing off a bit of steam, visit the no-holds-barred Free For All forum!

Computer geekshardware sections where you can discuss anything from videocards to motherboards, processors and definitely overclocking!! Benchmark enthusiasts are welcome in the PCStats 3DMark Team\Other Benchmarks area, and those of you who like a good deal, will absolutely love PCStats Web Deals forum.