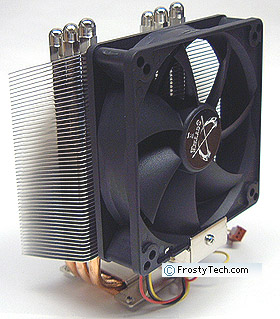 The Scythe Katana II heatsink boasts four rather unique technologies to its name; OFCS, VFMS, wide range RPM, and four way mounting. The first of these acronyms essentially describes how the copper heat pipe comes in contact with the aluminum fins of the heatsink.

Oval Fin Contact Structure (OFCS) increases the surface area between the aluminum fins and heat pipes by a small degree, which apparently improves heat transfer.

Additionally, the slanted orientation of the fins reduces the overall volume of the heatsink, and works to direct exhaust airflow down towards adjacent motherboard components.