When choosing an Intel Core 2 Duo processor, do your homework because cache size varies between models. For example mainstream oriented Core 2 Duo's come with 2MB of L2 cache, where as high end models have 4MB L2 cache. Tests have shown many times over that cache size makes a significant impact on overall performance.
All things considered equalled, enthusiasts like you are no doubt most attracted to the Intel Core 2 Duo E6600 because it offers the best mix of cache size and clock speed. The dual-core processor runs on a 1066 MHz FSB, comes clocked at 2.4 GHz and most importantly has a massive 4MB of L2 cache! The E6600 processor is built on Intel's 65 nanometer manufacturing process and comes in the Socket 775 form factor.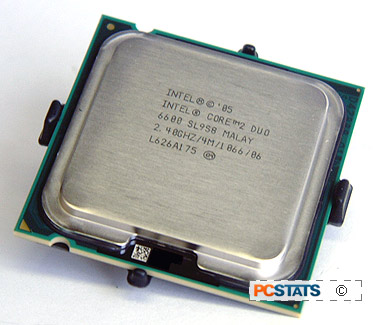 The Intel Core 2 Duo E6600 has a retail price of $354 CDN ($313 US, £164 GBP). The chip contains technologies like SSE3, Virtualization Technology (VT) and Enhanced Intel Speed Step Technology (EIST) which we'll discuss in detail later in the review.