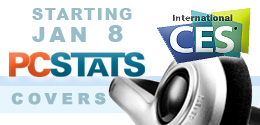 Beginning January 8 2007, PCSTATS will be on the ground and running at the 40th annual Consumer Electronics Show (CES 2007).

More than 150,000 attendees are expected to decend upon 2,700 exhibitors showcasing the latest high tech products and services over four days. Since 1967, CES has been the launch pad of technology, and this years' show promises to be nothing short of spectacular!

Stay tuned for daily updates from the front lines of new technology!