Cut Your Own Cat-5 Cable
---
This topic falls under things everyone should know - right there with the shoelace thing. Category 5 cable is a multistrand wire that forms the backbone for Ethernets everywhere. Ethernets are gaining in popularity in the home as prices for Network Cards decrease and the number of computers in a single home increase. An Ethernet can provide a fast and extremely convenient method of data transfer between two or more computers, but remember all that data has to go over a wire. The Cat 5 cable. Cutting lengths of Cat 5 is not difficult, and only really requires one special tool, and the flexibility in cutting one's own cable can be well worth it in the long run. There are a few things to be aware of however - especially if the cable is going to work!
Teeny bit of theory:
All this twisting can seem a bit confusing but it does serve a purpose. The paired wires in the cable balance out each others signals and help to null the effect of any noise that may be introduced into the signal from adjacent wires, or electromagnetic fields. What does this have to do with Ethernet cable? Well two things, one only twisted pair cable should be used (straight wire telephone cable won't cut it) and two, when attaching the wire to RJ45 plugs, or wall sockets its best to us the minimum amount of untwisted wire to do the job.
Tools:
There are a few basic tools that are required to properly cut your own cables, only one is really specialized however.
| | |
| --- | --- |
| | RJ45 Crimpers- This is the one tool that you have to have if cutting your own cable. It crimps the gold teeth in the RJ45 socket onto the individual wires, and can also be used to strip off the outer jacket. There are various qualities of crimpers out there, I would suggest avoiding the plastic type if you expect to be doing many cables as they tend to break. |
| | |
| --- | --- |
| | Diagonal wire snips - just a basic pair of wire cutters, these are great for removing the outer covering, and yes, cutting the wire ;-) |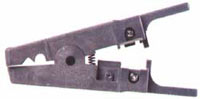 While I don't use a wire stripper they can be a great tool to have if lots of wire needs to be cut. This particular one strips nine variations of wire, so it's good for just about anything and not just Cat 5. newark sells it for $22