Abstract: AMI, who are better known for their BIOS chips and SCSI cards, have brought out a set of software tools to help diagnose computers on many levels.

Home > Reviews > Software > AMI AMIDiag
AMIDiag Hardware Diagnostics Software Suite
---
If you've ever tried to fix a computer which has been acting up, you know how frustrating it can be. AMI, who are better known for their BIOS chips and SCSI cards, have brought out a set of software tools to help diagnose computers on many levels.
AMIDiag is a suite of windows and DOS-based diagnostic tools which report on a staggering amount of hardware and software settings, and conduct an equally staggering number of tests. The package consists of both AMIDiag for Windows and AMIDiag 6.11 for DOS.
The software comes with:

- CR-ROM
- Quick Start Guide
- Error Code Guide
- Parallel socket terminator
- Serial port terminator
- Manufacturer: AMI
- Cost: $99USD
In general we found AMIDiag for Windows to be a bit awkward to use, and somewhat limited in the number of tests it can conduct. The DOS version, AMIDiag 6.11 on the other hand is extremely comprehensive in the number of tests it can perform.
A set of port terminators are included with the software for diagnosing problem with serial or parallel ports. The terminators simply screw into place and allow the tests to be conducted without the need for an actual device to be connected.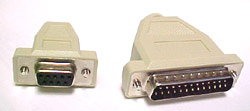 Below is a partial list of the features of AMIDiag. A full list of all the test features for the Windows and Dos versions are available here and here. When we first tested this software out to see what it could do we were a bit disappointed to say the least in both the look and breadth of what the windows version of AMIDiag could accomplish.
AMIDIAG FOR WINDOWS:
AMIDIAG FOR DOS:
Advanced Features
Compatible with Windows 95/98/ME/NT/2000
System Information for Major Components
Diagnostics for Major Components
Interactive Diagnostics
Trouble Ticket in HTML Format
Modules Based on ATL/COM
Customizable Components with Documentation
Add Third Party Diag/Information Modules
Compatible with DOS, Windows 95/98/ME
Latest CPU Support Including Intel, AMD and Cyrix
with virtually no speed limitations
Update Support for all Test Modules
Support for non-legacy IDE: HDU, CD, DVD, ATAPI
Hard Disk Tests for up to UDMA 100
ACPI Tests
USB Mass Storage Device Support
Enhanced Memory Tests Including SDRAM(SPD)
Enhanced Floppy Disk Diagnostic
Enhanced SMBUS Tests
Support for Built-in Video and Audio in Intel 810/815
Multiple Ethernet Support
Fast Tests for Several Devices
Easy Installation Procedure

Operating Systems
WindowsTM 95/98/ME
WindowsTM NT/2000

COM Controls
Easily Insertable and Removeable COM
Controls
All System Information Implemented as
COM Controls
All Diagnostics Implemented as COM
Controls
COM Controls Designed to Allow Insertion of
Management Layer Between Console Plug
In and Core Control

Connectivity
Local Only

Inventory Information
Memory Controller & Devices
Physical Drives
Logical Drives
BIOS
Video Adapter
Parallel Ports
Serial Ports
Modem
Network Adapter & Protocols
Device Drivers
CDROM
Floppy Drives
Keyboard
Mouse
OS Information

Diagnostics
Detailed Diagnostics for Subsystems
Multi-Level Diagnostics - Basic and
Extended
Progress and Status Notification
Diagnostics for Human Interface Devices
Keyboard, Mouse, Video, Audio

Diagnostics Modules Included
CDROM
Sequential Read Test
Random Read Test
Processor
CPU Register Test
CPU Stack Test
CPU Instructions Test
CPU Bit Set Test
FPU Control Word Test
Floppy
Random Read Test
Random Seek Test
Sequential Read Test
Sequential Seek Test
Hard Disk
Random Read Test
Random Seek Test
Sequential Read Test
Sequential Seek Test
Memory
Walking 0 Test
Walking 1 Test
Pattern Test
Modem
Dial Tone Test
Dial Tone and LoopBack Test
Network
Network Ping Test
Network HTTP Test
Parallel Ports
Port Register Test
Serial Ports
Register Test
Interrupt ID Test
Line Status Test
Data Transfer Test
Video
Video Gradient Test


Interactive Diagnostics Included
Keyboard
Scan Code Check
ASCII Code Check
Mouse
Speed Test
Double Click Speed Test
Video
Video Resolution Test
Visual Quality Test
3D Video Test
Audio
Volume Test
Speaker Test
Wave File Test
Frequency Synthesis Test

Trouble Ticket
Generated in Text or HTML Format
Complete System Inventory Report
Complete Diagnostics Report
Results Gathered are Sent in E-mail to
Previously Determined Address

OEM Customization
Add New Components
Add New Information Views with New Icons
Remove Selected Information Views
Customizable Trouble Ticket
OEM Supplied Diagnostics can be Added

Hardware Information
System Summary
Motherboard Information
USB Information
ACPI Information
Resource Information
Enhanced VGA Information
Printer Information

Storage
IDE Information
DVD Information/Test
LS120 Test
ZIP Drive Information/Test
SCSI Information/Test

Misc. Tests
AGP Test
Enhanced Serial Port Test with Loopback
Enhanced Parallel Port Test with
Loopback
Connect to System Tools

OS Info
Internet Information
System Files Information
Windows Class Information
Active Module and Process Information
NT Services Information

Test Control
Condensed Scripted, Scripted & Batch Mode
Testing
Interactive/Non-Interactive
Quick Test Mode with Additional Tests
Single/Multi Cycles Batch Testing
Test Progress Status
Test Result Logging on a File, COM: or LPT: Port
Customizable Log File
Integrates with External System Mgmt Products
Configuration Summary to File
Allows Running from RAM Drive when Boot
from Floppy
Input/Output Redirection via COM Port (VT100
Interface)

CPU Tests
Supports, Detects & Verifies CPU Speeds
(virtually no speed limit)
Tests MMX, Pentium III SIMD & 3DNow
Extensions, Pentium II Xeon, Celeron,
Pentium III, Pentium III Xeon, Pentium4 &
Dixon
Tests AMD K6-2 & Athlon (K7)

Memory Tests
Memory Fault Isolation
Up to 64GB Memory Supported
Chipset Specific Tests for ECC on 440FX, 440LX,
440BX, 450NX & Profusion
Works with a Memory Manager Loaded
Parity, Pattern & Extended Pattern Tests
Walking Os & 1s
Rom Pattern Test
Refresh Test
Cache Memory Test
Specific L2 Cache Test for Pentium II & Above
Quick Cache, Quick Data & Address Bus Tests
Memory Interleave & Bank Failure Reporting
ECC Error Monitoring
Supports Memory Holes

BIOS ROM Tests
ROM Read & Write

Multi-Processor
Tests up to 16 Processors
Supports Pentium Pro & Pentium II, Pentium II
Xeon & Pentium III Xeon
CPU Steppings
Target Speed & L2 Cache
Detection of Incompatible CPUs
Multi-Processor System Information

System Board Tests
Serial & Parallel Port Tests
IrDA Test
CMOS & FPU
Speaker (Customizable)
DMA & Interrupt Controllers
Plug & Play (PnP)
EISA & Enhanced PCI Buses
PCI Bus Stress (Standard & Master PCI Cycles)

SMBus Tests
SMBus Controller Test (PIIX4/4E, SiS, ALI & VIA)
Customizable LM75 & LM80 Tests (OEMs only)

SCSI Device Tests
Automatic Device Detection
Enhanced Boot Sector
Supports 8 Channels (120 Devices)
Supports Narrow, Wide & Ultra Wide SCSI
Disk Read, Write, Format & Disk Buffer Tests
Disk, Tape & CD ROM Self Diagnostics
Bad Block Management & Replacement
Disk Spin Down
Physical Access to Devices on RAID cfg
(MegaRAID)
Cluster Support (MegaRAID)
Tape Read, Write, Rewind & Tape Buffer Tests
CD-ROM Read, Play, Buffer & Tray Tests

IDE Hard Disk Tests
Supports 4 IDE Drives
Performance, Verify, Data Read & Seek Tests



Contents of Article: AMI AMIDiag

---

Pg 1. — AMIDiag Hardware Diagnostics Software Suite
Pg 2. Final Thoughts


SEARCH PCSTATS

---

Use the power of Google to search all of PCSTATS and the PCSTATS Forums. Tell us what you think of this new feature - FEEDBACK?