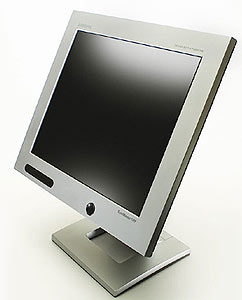 If I had one suggestion for Samsung about the 171P it would have been for them to make it with an actual aluminum skin instead of the metallic silver plastic. On one hand I know this would be simply jaw dropping, and on the other I know it may not wear well - but given the MP3 players, and digital cameras which have received similar treatment from F.A. Porsche, I'd be willing to take the risk.
As LCD monitors go, the 171P is among the best we have seen to date. The technical specs have raised the bar for desktop LCD's and the industrial design of the enclosure has proven it can draw attention. Price may be the only downside to this display which will probably retail at over $1000USD, but at the time of this review final pricing has not been disclosed so we cannot say for sure.
A 17" LCD display is about the same size as a 19" CRT, and a lot less expensive than a 18.1" LCD so it makes good sense for users to really consider this monitor. The lack of removable cables may be seen as a drawback by some of you, but I think the market that this display is targeting will overlook that. There are plenty of other LCD monitors with removable bases and such, the 171P is for users looking to make a statement with their equipment - either to compliment surrounding architecture or decor.
The touch sensitive buttons are something that will cause some users problems because it is a relatively new way of interfacing with a monitor and offers no tangible response that something has happened, but so long as you don't wear gloves while you work it should not affect most individuals. Integrated sound would have made excellent use of the grill like rear side panels, but sadly there are not very many thin speakers with sound worth including. NXT have something which is passable, but then again would this really have brought something useful to the 171P? Probably not.
For users looking for a stylish LCD display for the office or home the F.A. Porsche designed 171P comes highly recommended!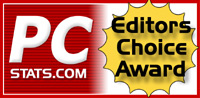 You tell us, do you think this LCD display is as good as we think it is? Come to the forums and let us know what you think about it.
LCD Display Comparisons
Display
pixel pitch
luminance
contrast
viewing angle
screen size
max resolution
price range

15 Inch

AOC LM-500
0.270 mm
200 cd/m2
150:1
50/50/40/40
15"
1024 x 768
$350
Hitachi CML153XW
0.297 mm
200 cd/m2
300:1
45/45/60/60
15"
1024 x 768
$400
Hitachi CML151XW
0.297 mm
200 cd/m2
350:1
45/55/60/60
15"
1024 x 768
$420
Samsung 150MP
0.297 mm
200 cd/m2
300:1
70/70/60/60
15"
1024 x 768
$650
Samsung 150T
0.297 mm
200 cd/m2
300:1
60/60/55/55
15"
1024 x 768
$600
Samsung 570S
0.297 mm
200 cd/m2
250:1
60/60/55/55
15"
1024 x 768
$500
Samsung 570V
0.297 mm
200 cd/m2
250:1
60/60/55/55
15"
1024 x 768
$400

17 Inch

Samsung 171P
0.264 mm
250 cd/m2
500:1
85/85/85/85
17"
1280 x 1024
$1000-1200 (est)
Samsung 170MP
0.264 mm
170 cd/m2
220:1
80/80/80/80
17"
1280 x 1024
$1000
Samsung 171MP
0.264 mm
240 cd/m2
400:1
80/80/80/80
17"
1280 x 1024
$1250
Samsung 171B
0.264 mm
240 cd/m2
400:1
80/80/80/80
17"
1280 x 1024
$800
Samsung 170T
0.281 mm
220 cd/m2
350:1
80/80/80/80
17"
1280 x 1024
$900

18.1 Inch

Hitachi CML181SXW
0.280 mm
235 cd/m2
350:1
85/85/85/85
18.1"
1280 x 1024
$900
Samsung 181T
0.281 mm
250 cd/m2
450:1
85/85/85/85
18.1"
1280 x 1024
$1100
Samsung 181B
0.281 mm
250 cd/m2
400:1
80/80/80/80
18.1"
1280 x 1024
$1200 (est.)
Samsung 180T
0.280 mm
220 cd/m2
350:1
80/80/80/80
18.1"
1280 x 1024
$1600
Samsung 800TFT
0.2805 mm
170 cd/m2
220:1
80/80/80/80
18.1"
1280 x 1024
$2500
lower best
higher best
higher best
up/down/left/right
(USD)