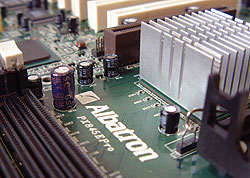 The Albatron P4X845EPro is a mighty fast motherboard that is for sure! When teamed up with a fast processor and videocard there isn't anything the P4X845EPro can't handle, just look at the benchmarks. To make things better, P4X845EPro is one of the most well equipped P4 boards out there it has everything you would need, Ultra/133 IDE RAID, 10/100 LAN, USB 2.0 and even 5.1 audio there isn't much more you could ask for. If you do happen to find something you're missing the P4X845EPro is an extremely upgradeable motherboard with a 4x AGP slot and six 32-bit PCI's.
Stability of the motherboard was excellent we didn't have one single crash unless it was due to user error. The Phoenix bios that the P4X845EPro uses is just as feature rich as the actual hardware on the PCB! Tweakers/overclockers will surely love this board since it gives you full control over anything you would ever want to adjust. We really liked the fact that there is no voltage mod needed to run a Northwood processor at 1.85V.
About the only thing I have to complain about is the placement of the onboard IDE RAID's connectors. With them perpendicular to the DIMM slots even longer PCI cards (such as the SB Audigy) will have a hard time fitting in PCI slots 3-5 and the IDE cable will have to wrap around the other peripherals.
Overall the Albatron P4X845EPro is a great motherboard and anyone who uses it will enjoy it's blistering performance!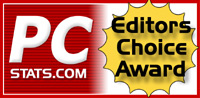 Related Articles:

Here are a few other articles that you might enjoy as well...

2.