While the Cornea MP704 is not the most advanced piece of LCD glass you can get today, it does offer a pretty good display at a very affordable price. It is interesting to note that in comparisons with a few of the more recent Samsung LCD's we've looked at, that there are some visible differences in LCD quality. With the Cornea MP704 display off, the LCD screen has a greenish look to it, while comparably, the more advanced 191T for example is jet-black.
What this difference translates into on the screen is hard to say, as nothing is immediately evident, but it may be worth noting so we mention it here.
As a value-oriented display the Cornea MP704 is positioned to consumers with a low price point first, and features second. As it only has an analog connection, no removable base, and little in the way of other added-value points. It is hard to compare it with brand name displays which also throw style and design into the mix.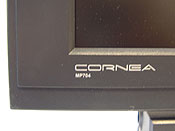 A listed contrast ratio of 400:1 is very good to see, and means that this monitor is at least in step with the times. The brightness or luminance rating of 250cd/m2 is fairly standard so there are no complaints from us there either.
The only problem I can see with this display on the technical level is the rather narrow viewing angles. I suppose we have been spoiled by the other 17" displays we have had the chance to review first hand, but when it comes to working on the display they can make a big impact. The up viewing angle of 40 degrees is a bit short especially.
Bottom line, the Cornea MP704 in its black case is an analog only LCD display designed for the value conscious consumer. It offers no removable base, or swivel, no extraneous features - just one 17" LCD display. The pared down nature of the unit is refreshing and makes the MP704 good for utilitarian situations where basic features are all that is required. The display quality is very good, and we are glad to see that the display is in-line with current brightness and contrast levels.
LCD Display Comparisons
Display
pixel pitch
luminance
contrast
viewing angle
screen size
max resolution
price range

15 Inch

AOC LM-500
0.270 mm
200 cd/m2
150:1
50/50/40/40
15"
1024 x 768
$350
Hitachi CML153XW
0.297 mm
200 cd/m2
300:1
45/45/60/60
15"
1024 x 768
$400
Hitachi CML151XW
0.297 mm
200 cd/m2
350:1
45/55/60/60
15"
1024 x 768
$420
Samsung 150MP
0.297 mm
200 cd/m2
300:1
70/70/60/60
15"
1024 x 768
$650
Samsung 150T
0.297 mm
200 cd/m2
300:1
60/60/55/55
15"
1024 x 768
$600
Samsung 152T
0.297 mm
350 cd/m²
450:1
80/80/75/75
15"
1024 x 768
Samsung 570S
0.297 mm
200 cd/m2
250:1
60/60/55/55
15"
1024 x 768
$500
Samsung 570V
0.297 mm
200 cd/m2
250:1
60/60/55/55
15"
1024 x 768
$400

17 Inch

Cornea MP704
0.264 mm
250 cd/m2
400:1
40/65/65/65
17"
1280 x 1024
$550
Samsung 171P
0.264 mm
250 cd/m2
500:1
85/85/85/85
17"
1280 x 1024
$1000-1200
Samsung 170MP
0.264 mm
170 cd/m2
220:1
80/80/80/80
17"
1280 x 1024
$1000
Samsung 171MP
0.264 mm
240 cd/m2
400:1
80/80/80/80
17"
1280 x 1024
$1250
Samsung 171B
0.264 mm
240 cd/m2
400:1
80/80/80/80
17"
1280 x 1024
$800
Samsung 170T
0.281 mm
220 cd/m2
350:1
80/80/80/80
17"
1280 x 1024
$900

18.1 Inch

Hitachi CML181SXW
0.280 mm
235 cd/m2
350:1
85/85/85/85
18.1"
1280 x 1024
$900
Samsung 181T
0.281 mm
250 cd/m2
450:1
85/85/85/85
18.1"
1280 x 1024
$1100
Samsung 181B
0.281 mm
250 cd/m2
400:1
80/80/80/80
18.1"
1280 x 1024
$1200
Samsung 180T
0.280 mm
220 cd/m2
350:1
80/80/80/80
18.1"
1280 x 1024
$1600
Samsung 800TFT
0.280 mm
170 cd/m2
220:1
80/80/80/80
18.1"
1280 x 1024
$2500

19 Inch

Samsung 191T
0.294 mm
250 cd/m2
500:1
85/85/85/85
19"
1280 x 1024
$1200
lower best
higher best
higher best
up/down/left/right
(USD)