Quake III Arena is a First Person Shooter (FPS) that revolutionized gaming as we know it. Using multiple light sources and having graphics textures that can fill videocards, even after 3 years it's still able to bring a cutting edge system to its knees.
Quake III Arena Fastest demo001 (SYSTEM)

Motherboard (FSB)

FPS
Ranking
1.

P4R533-N - 133 MHz

350.6
2.

P4R533-N - 142 MHz

369.4
Quake III Arena Fastest nv15demo (CPU STRESS)

Motherboard (FSB)

FPS
Ranking
1.

P4R533-N - 133 MHz

96.9
2.

P4R533-N - 142 MHz

102.1
Those are the highest Quake III scores I have ever seen. An amazing 369.4 FPS!!! Quake III has always loved the available bandwidth a Pentium 4 has.
Conclusions: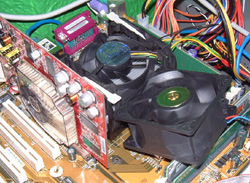 Looking at the benchmarks we can see that the P4R533-N is a pretty quick motherboard! Even with a lowly P4 1.6A clocked at 2.13 GHz (133 MHz FSB) the performance of the board is excellent!
For a street price of $190 CDN it's also one of the cheaper i850E based boards out there.
The P4R533-N does have a lot of features, onboard 5.1 hardware audio, onboard LAN and memory card reader, but it would have been nice to see onboard IDE RAID as well. And when it comes to the little things I just have to say once that we've always been big fans of those long jumpers Iwill always uses. It's amazing how little things like that can make your life easier.
We were very surprised that Iwill didn't allow for 1 MHz increments adjustment in the BIOS for the FSB. Hopefully Iwill will allow that option with future BIOS revisions but we will have to wait and see. Another thing they should look at implementing is locked AGP and PCI frequencies. It's a handy tweak that's extremely useful when hitting higher FSB's in overclocking situations.
Since all other Intel based motherboards have this option the P4R533-N should as well. Lastly, we're still not sure why Iwill decided to go with the ICH2 southbridge instead of the newer ICH4. That choice means the P4R533N lacks USB 2.0 support which is fast becoming standard on high end motherboards.
The Iwill P4R533-N is very fast motherboard and at stock speeds it was 100% stable. The test sample Iwill sent us though wasn't much of an overclocker, but if you're not much of an overclocker you'll enjoy Iwill's blistering fast speed and performance all the same :-)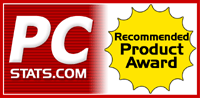 Related Articles:

Here are a few other articles that you might enjoy as well...

2.