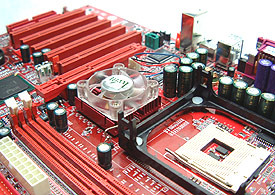 The Iwill P4HT-S is a pretty fast motherboard that has quite a few features and good looks! With on board 10/100 NIC, 5.1 audio, IDE RAID, Serial ATA RAID, memory stick & smart card readers, and five PCI's there isn't much more you could ask for.
To top things off, the board is a very pretty red with matching AGP/PCI and DIMM slots and has a red glowing Northbridge fan.
Performance of the motherboard was very good as you can see by the benchmarks, if it's still not fast enough for you though it does overclock quite well.
There are a whole lot of overclocking options as well as full voltage controls. I'm 100% positive that the processor was limiting our overclocking adventure and if we had a better overclocking CPU we could hit higher.
The Iwill P4HT-S is not perfect though, our biggest complaint with the motherboard is the location of the Promise IDE RAID connectors. At the bottom of the motherboard, the IDE cables will have to wrap around the other devices in the case which can play havoc with your system cooling. It would have been nice for Iwill to use the C-Media chipset on their motherboards (like they use to) instead of the poorer quality AC'97 codec.
The P4HT-S is a good motherboard, has a lot of features, and looks great. The secondary IDE ports are really not located in the best of positions unless you are using a smaller case where the hard drives are quite low to the floor. That's a small point to consider for most of us who don't have full-tower server cases to contend with however.
Related Articles:
Here are a few other articles that you might enjoy as well...