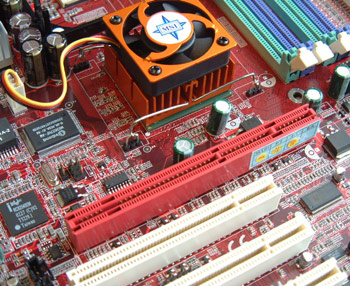 Finally, two years after the Intel Pentium 4 was released, the E7205 Granite Bay chipset, a dual channel DDR solution, provides enough bandwidth to satisfy a 533 MHz FSB P4.
Granite Bay is quite different from the other Intel DDR chipsets, instead of just boosting memory speeds higher (i845E/G-i845PE/GE) Granite Bay allows you to run two relatively slow PC2100 sticks of memory in parallel, thus doubling the available bandwidth to the processor.
Granite Bay based boards are intended for workstation systems over that of the desktop and will probably be somewhat expensive. Cousin's of the Granite Bay chipset, Springdale PE and Canterwood chipsets will be aimed at the desktop market, and should be available in the second half of 2003.
MSI's GNB MAX-FISR motherboard is very fast solution as you can see from the benchmarks we've shown. It clearly outperforms the i845G (running in DDR333 mode) and most of the time, it's able to outperform even the i850E/PC1066 RDRAM combo.
The GNB MAX is not just a good performer, but it's also loaded with features; onboard Intel Gigabit ethernet, IEEE 1394 (Firewire), hardware 5.1 audio, Serial ATA RAID and because this is a workstation motherboard MSI have even included a 8x AGP Pro slot. Like most other MSI boards, the GNB MAX is red in colour and has alternating aqua/light purple DIMM slots.
MSI motherboards are always very well labelled and there seems to be a lot of thought put into designing their boards. Little things like placing all the USB 2.0, Firewire and audio headers at the bottom of the motherboard means the cables will not interfere with the other system devices.
I have no beefs with the GNB MAX, sure there are no overclocking options, but we have to remember that this board is intended for workstations where stability is much more of an issue. In that sense the board proved itself capable, even though the BIOS reported an undervolt to the processor by 0.7V. I'm 100% positive that MSI will have this problem solved when the GNB MAX-FISR is available for retail sale.
I'm not sure about the price of the board because it's not available for retail sale yet. I expect it will be moderately expensive. Every board based on the Granite Bay is faced with a higher cost for the chipset itself, about twice that of the i845PE - it's no wonder when you consider the fact that the core size of the E7205 is larger than that of the FC-PGA Pentium III processor! If you're looking for a good workstation motherboard, the GNB MAX-FISR will serve you just fine, RDRAM has a limited lifespan, but DDR is still going strong.
Related Articles:
Here are a few other articles that you might enjoy as well...