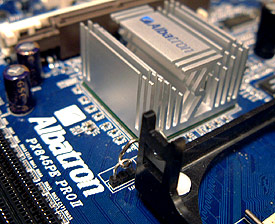 With a price tag of $200 CDN ($135 US) the Albatron PX845PE Pro II is a good board, but it cannot separate itself from the rest of the crowd. Pretty much all Intel based motherboards are good performers as was the PX845PE Pro II, and most boards in its class are well equipped too.
While reviewing this motherboard, I got the impression that Albatron engineers spent a lot of time and care designing their motherboard for easy use and expandability. The board is just so well labelled you know exactly what everything does and goes. Little things like having all the fan headers out in the open goes to show you that they're thinking about the end user's experience with the board.
As I mentioned above, the performance of the Albatron PX845PE Pro II is about the same as other i845PE based motherboards, which is very good. If that's still not fast enough for you the board does have a whole slew of overclocking options that should be able to satisfy your needs.
The only real question about the board is its availability. It seems from reader response that Albatron products aren't exactly easy to find yet. Still, things continue to look up for Albatron, as many more online retailers are starting to carry their products because of demand.
Other then the very cool colour there really isn't anything that separates this board from the rest of the pack. If you do pick up the PX845PE Pro II, I'm positive that it will serve you well.
Related Articles You Should Read:
Here are a few other articles that you might enjoy as well...