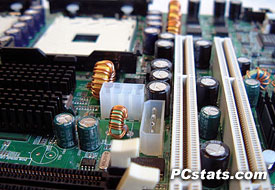 Tyan's entry level S2722 server motherboard retails for about $330USD, and as we can see, it performs almost as well as it's more expensive brother the Tyan Tiger S2720.
The Tyan Tiger S2722 is the first dual Xeon motherboard that is compliant with ATX standards and form factors. While the board is rather large, you shouldn't have any problems fitting it in a full tower ATX case and using a Pentium 4 compatible PSU with it. I would suggest to you if you plan to do that however to get yourself a quality power supply.
The Tiger i7500 S2722 supports up to two 400 MHz FSB Xeon socket 603 processors (of the same speed) and has a capacity for 8 GB of PC1600/2100 registered ECC DDR memory. The board finds an ideal home as an entry level web / application server, and with Intel-based Gigabit LAN and standard 10/100 offers dual connectivity options. Video comes care of the ATI RageXL chipset. There are no SCSI options, but as we discussed earlier there will be at least one useable 64-bit PCI-X slot for 1U applications which a good quality SCSI or RAID card to be dropped into.
Our favorite feature of the Tyan S2722 was not in its hardware but rather the excellent Tyan System Monitoring software that is downloadable from Tyan's website. If you suspect anything might be a bit off with the hardware in the system, simply load up the Tyan Monitoring Software and look for problems.
The Tyan Tiger S2722 certainly lives up to the Tyan name, and during testing proved itself stable and eminently reliable. With its small ATX footprint, it will fit in standard tower enclosures as well as 1U rack mountable chassis making it extra versatile. If you need an entry level dual Xeon server board, the Tyan Tiger S2722 would be well worth your time to consider.
Special thanks to:
Tyan Computer
APPRO International
Intel Corp
MSI Computer
Corsair Memory
Vantec