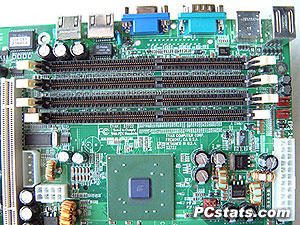 For those who need the power of a dually Xeon for your applications, but are still on a budget and can't afford a ESP12V power supply, there is an alternate solution.
The Tyan Tiger S2722 draws power as any standard server board would from a 24-pin & 8-pin set of EPS12V power connectors. However, the Tiger S2722 is versatile and will also run off of a high quality standard Pentium 4 compatible ATX12V power supply with at least one free molex connector.
We tested this out by selecting a 470W ATX power supply and connecting the 20-pin power connector to the 24-pin socket on the S2722, the 4-pin auxiliary power connect to the 8-pin connector on the board, and the molex power connector to its socket as well. The board isn't keyed specifically for this method, so reference the manual before plugging in any cables from the ATX12V PSU.
After power up, the Tiger 2722 ran just fine as expected, though we caution you to only use a high quality power supply if this is the route you decide. In general terms, ESP12V power supplies are not as mass produced as ATX12V PSU's which can be made very cheap, and very unreliable. Don't take the chance and allow data to get corrupted thanks to a lousy power source.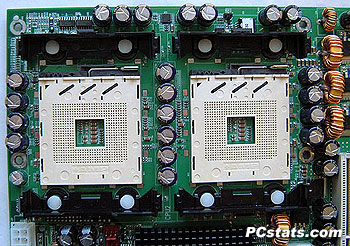 The layout of the Tiger S2722 is quite different from most desktop motherboards even though it is ATX compliant (in size and power). The twin Xeon CPU sockets are located at the upper right hand corner of the board, with no obstructions close by. When installed in an appropriate 1U or 2U rack mountable case with internal case fans, this position can provide a level of redundancy should a fan fail on one of the processors (system air flow can help to keep temperatures down).
This depends on the particulars of the case of course, and in any event there is good clearance around each of the processor sockets for standard active cooling heatsinks when chassis space allows.
Headers, sockets and DIMM's are well labelled on the board, so for example if you're not sure which two sets of DIMM constitute a pair, just look for the label - beats checking the manual!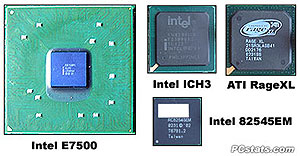 The Tiger S2722's six fan headers are all well located and easy to access. The floppy and IDE connectors are in a good location as well. There shouldn't really be any problems installing full length PCI peripherals on this board whether it be in a 1U or 4U chassis. Server devices such as RAID cards are usually very long, so this can be an important point to dwell on, even if momentarily.
You may have noticed as well that the Tyan Tiger S2722 does not have any onboard SCSI options. There are two reasons for this, first SCSI controllers are expensive and would simply add to the price of the board. Secondly, given the small footprint of this entry level sever board it really isn't necessary.
In most situations, the the Tiger S2722 would find its use as a Web/Application server where it can be run just fine with IDE hard drives. Those that decide they truly need the extra data redundancy can install a standalone 64-bit PCI-X RAID card.