Benchmarks: QIII Arena, UT2003
Quake III Arena is a First Person Shooter (FPS) that revolutionized gaming as we know it. Using multiple light sources and having graphics textures that can fill videocards, even after 3 years it's still able to bring a cutting edge system to its knees.
Quake III Arena Fastest demo001 (SYSTEM)
Processor
FPS
Ranking
1.
8RDA+ - 166/333
375.2
2.
KX400-8XV Pro - 166/333

333.9

3.
KX400-8XV Pro - 177/354
351.3
Quake III Arena Fastest nv15demo (CPU STRESS)
Processor
FPS
Ranking
1.
8RDA+ - 166/333
107.3
2.
KX400-8XV Pro - 166/333
95
3.
KX400-8XV Pro - 177/354
100.4
Like we saw with the DFI AD77 Infinity, the KX400-8XV Pro does quite poorly in Quake III Arena. It seems like VIA has yet to address the 3D performance issues with the KT400 chipset.
Unreal Tournament 2003 Demo

Source: Epic
Unreal Tournament 2003 is the sequel to 1999's multiple 'Game of the Year' award winner. It uses the very latest Unreal Engine technology - where graphics, sound and game play are taken beyond the bleeding edge. Unreal Tournament 2003 employs the use of Vertex as well as Pixel Shaders and it's recommended that you use a DirectX 8 videocard to get the most out of the game.
UT2003 Demo 640x480 Flyby
Video Card
FPS
Ranking
1.

8RDA+ - 166/333

235.16
2.
KX400-8XV Pro - 166/333
217.28
3.
KX400-8XV Pro - 177/354
230.32
UT2003 Demo 640x460 Botmatch
Video Card
FPS
Ranking
1.

8RDA+ - 166/333

76.36
2.
KX400-8XV Pro - 166/333
71.28
3.
KX400-8XV Pro - 177/354
75.42
UT2003 goes easier on the Albatron KX400-8XV Pro, the frame rate difference is much closer here. Still even when overclocked the KX400-8XV Pro is not able to match the power of the Epox 8RDA+ at stock speeds.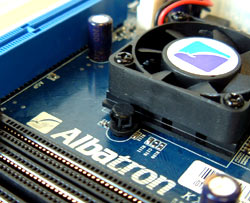 With a retail price of $115 CDN ($75 US), Albatron are clearly targeting the KX400-8XV Pro at mainstream users with moderate computing requirements. The board comes with on board 10/100 Ethernet, a slew of USB2.0 ports and 5.1 audio, but that's about it. Five PCI slots leave lots of room to spare, say for a more powerful audio card. Upgrade paths are good for individuals who already have a lot invested in expansion cards.
When comparing the KT400 chipset to the Nforce2 we can see that the performance difference between the two is about 8% in UT2003, 11% in QIII and virtually nil in the office based benchmarks.
The KT400 is a capable gaming platform, but not the fastest solution out there when compared against the Nforce2 which nets as much as an 11% lead in gaming benchmarks.
Differentiating between the KX400-8XV Pro and an nForce2 based motherboard when running office applications is difficult considering the almost identical performance illustrated in the benchmarks.
If you're looking for a new budget Athlon motherboard you should definitely take a look at the Albatron KX400-8XV Pro, it's one of the least expensive motherboards on the market and comes with 8X AGP. If you burn the midnight oil playing games, one of Albatron's other motherboards may be a better option, but for budget minded folks who aren't obsessed with FPS games, the KX400-8XV Pro could be a good compromise.
Find out about this and many other reviews by joining the Weekly PCstats.com Newsletter today!
Related Articles:
Here are a few other articles that you might enjoy as well...
1. MSI KT4 Ultra-FISR KT400 Motherboard Review
2. DFI AD77 Infinity KT400 AMD Motherboard
3. Epox 8RDA+ nForce2 Motherboard Review
4. FIC AU11 nForce2 Motherboard Review
5. Asus A7N8X nForce2-SPP Motherboard Review
SEARCH PCSTATS

---

Use the power of Google to search all of PCSTATS and the PCSTATS Forums. Tell us what you think of this new feature - FEEDBACK?