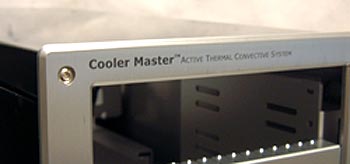 For those of you who are very sound sensitive, the Cooler Master ATC-201B SXT may be a bit loud for your tastes with its three 80mm case fans. Perhaps Cooler Master could include some sort of fan controller for the two intake fans to help lower their dB level. Should you want to swap out the front two intake fans, the allen key is not included but will be necessary to remove the front bezel.
I would have preferred the ATC-201B SXT to have been a bit deeper as working inside the case with a fully equipped computer can be difficult. The case measures 19cm x 44cm x 48cm.
Other then the few points above, I must say I'm very impressed with what the Cooler Master ATC-201B SXT offers. The case is very straight forward and well designed it looks professional and does not resort to cheap gimmicks or flashy colours to attract potential customers. Rather, Cooler Master rely on workmanship and quality to tell the story.
The inside of the case is well designed and easy to use, thumbscrews make getting into the case quick and easy should you want to tweak anything inside your case. A removeable motherboard tray is great too! One of the side affects of HDD's getting faster and faster is that produce more heat. The ATC-201C SXT takes care of that by placing two 80mm fans that actively cool the HDD drive bays.
To make the case more attractive, ATC-201C SXT has side panels and top finished with black metallic auto paint. What's even better is that they're, smudge resistant so you don't have to worry about finger prints making your case dirty.
With a retail price of $255 CDN ($170 US) the Cooler Master ATC-201B SXT is probably one of the more expensive aluminum mid tower ATX cases on the market, but if you want the best, the case is worth every penny!
Thanks to Cooler Master for sending us the case for review and thanks to Canada Computers for forwarding it to me.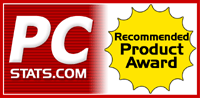 Related Articles:
Here are a few other articles that you might enjoy as well...
1. Antec Plus 1080AMG File Server Case
2. Antec SX1030B File Server Case