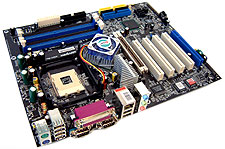 While all the benchmarks we ran showed that the i875P equipped AOpen AX4C-Max was faster than the two i865PE motherboards we tested earlier, performance differences between them were less then 1% in office based benchmarks and less the 5% in the more intensive game-type tests. Of course this is not the fault of AOpen, rather the chipset itself.
We did have some problems running SysMark2002, it just would not complete a full benchmark test. We didn't have any problems with any of the other tests however, and as you can see the AOpen AX4C Max is quite fast.
The layout of the AX4C Max is excellent and any user will not have any problems installing this motherboard into their case. From the location of the main ATX power connector to the ATX12V and even the floppy and IDE/Serial ATA ports everything is pretty much located in their most ideal spot.
We liked the fact that six USB 2.0 ports are positioned on the back panel of the motherboard, and other little things like placing all the header connectors (IEEE 1394, Gameport, audio and front panel I/O) at the bottom of the motherboard make things easy for the end user.
While Intel's "PAT" feature has potential, as the benchmarks have shown it doesn't do much for performance at the moment. Memory intensive applications get the biggest boost from "PAT," including games, and I would assume anything that is heavily database related.
Like most other Intel i875P Canterwood based motherboards on the market, the AOpen AX4C Max is brand new, and thus quite expensive at $260 CND ($185 US). Considering the price against other i875P motherboards, the AOpen AX4C Max does offer quite a bit of value considering all the integrated components. After all, AOpen include 5.1 audio, IEEE 1394, Serial ATA/Serial ATA RAID, Gigabit LAN and dual BIOS's to name just a few.
If you're looking for a new desktop motherboard for internet surfing, or mundane office applications perhaps one of the cheaper i865PE boards would be a better buy as they offer 95% of the performance at 80% of the price. Of course if you must have the latest and greatest, the AOpen AX4C Max will certainly keep you very happy with its dual channel DDR and quick pace!
Find out about this and many other reviews by joining the Weekly PCstats.com Newsletter today!
Related Articles:
Here are a few other articles that you might enjoy as well...