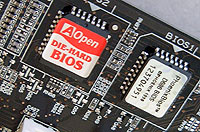 I finally discovered how useful dual BIOS's could have been the other day when I was playing around with an MSI 875P Neo motherboard. Having had a few problems with the memory timings and frequencies, I went to MSI's website and downloaded the latest BIOS (at the time it was version 1.3 which has now been removed) and proceeded to flash the 875P Neo's BIOS. The process went ahead without any power outages or things of that nature but it seems the BIOS was bad and to my surprise the system wouldn't reboot...
After searching around the web for a bit, I found that the problem was with the 1.3 BIOS itself. Apparently there was an issue which manifested itself on some 875P Neo's and this had the potential to 'kill' the motherboard. While this kind of issue is an isolated example of a BIOS flash update gone bad (it's the first time we've ever had a board 'die' because of an update), it is something that could never have caused problems with the AOpen AX4C Max as it has dual BIOS's. If a BIOS flash on the AOpen AX4C Max goes bad, the backup BIOS kicks in and restores order! A wonderful feature to be sure!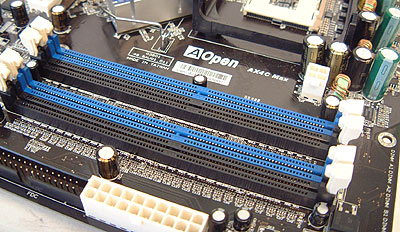 By now I'm sure you all know how I like having all the expansion headers (IEEE 1394, USB 2.0, WoL, etc) at the bottom of the motherboard. AOpen place all but one USB header along the bottom edge of the AX4C Max which means the headers and cables will not get into the way of your other PCI/AGP devices - if you have a window on your case it also helps to keep things looking less cluttered.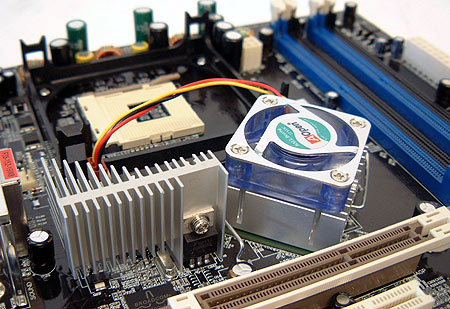 While not absolutely necessary, AOpen have opted to cool the i875P Northbridge with an active HSF combo. This certainly does a lot for peace of mind knowing your Northbridge will not overheat. There is also a passive heatsink attached to the adjacent MOSFET which is something we haven't seen previously on a motherboard.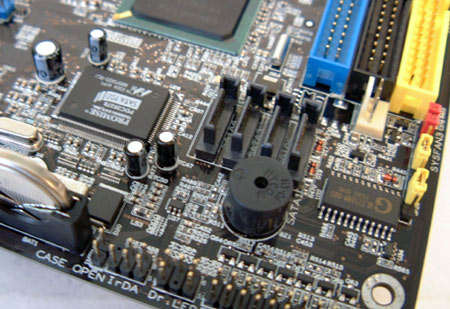 With so many things to say about the AX4C Max there is bound to be something we don't like. In fact my only issue with the AX4C Max is the way the CMOS battery is oriented. Soldered on perpendicular to the PCB, it is very easy to break off the CMOS battery should you be too careless when installing the board in a case.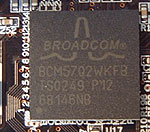 The Broadcom BCM5702WKFB controller is a fully integrated 32-bit 10/100/1000BASE-T Gigabit Ethernet Media Access Control and Physical Layer Transceiver solution.
The BCM5702 combines PCI bus interfaces, on-chip buffer memory, and integrated physical layer transceiver (PHY) in a single device. Based on a low-voltage 0.13um CMOS process , the single BGA chipset is reportedly fine for use in zero-airflow environments.
The BCM5702 supports with full/half-duplex capability at all speeds, and includes an on-chip power circuit controller, WOL, and CPU task off load capability. Windows 98/NT/2000/XP and Linux 2.2/2.4 are the supported OS's.