In terms of overclocking we had more luck with the AOpen AX4C Max then we did with Aopen's i865PE-based AX4SPE. Starting at 200 MHz FSB we began to raise the clock speed slowly, and at 210 MHz FSB we ran into a few stability problems. Raising the memory voltage to 2.8V (even though we're using Corsair XMS3500 CAS2 DIMM's) seemed to solve the problem so we continued onward.
At 217 MHz FSB we could not overclock any higher. Raising CPU voltage didn't help, nor did raising the AGP voltage. 217 MHz FSB was a bit disappointing considering Albatron PX865PE Pro II was able to hit 227 with a slight CPU voltage bump before capping off.
The AX4C Max BIOS:
The AOpen AX4C Max BIOS is exactly the same as the AOpen AX4SPE Max, so don't be surprised that the pictures below are the same. :-)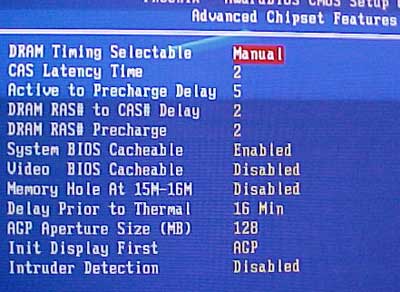 If you're a tweaker, AOpen does give you all the usual memory tweaks we would expect from a motherboard. We're able to change the AGP aperture size but not the AGP rate.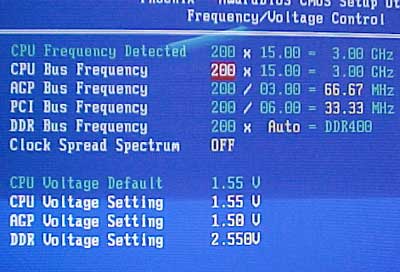 With a 200 MHz FSB processor you can raise your CPU speed to a maximum of 300 MHz while having the ability to set your AGP, PCI independently. CPU voltage can be raised to 1.85V which is good news for hardcore overclockers and AGP voltage goes as high as 1.8V. A maximum voltage of 2.8V for the memory is a bit low, but then again the AOpen AX4C Max is not a 'die hard' overclocker motherboard.