Abstract: Despite a bit of a delay at the release of the nForce2 chipset, nVidia appears to have learned their lessons well and have not made the same mistakes twice.

Home > Reviews > Motherboards > various nforce2
The Epox 8RGA+
Epox 8RGA+ Motherboard




Ships with the following:

IDE ATA66/100 Cable
FDD Cable
Driver CD
User Manual
Quick Install Guide
Rear I/O Back Panel

Brackets:
Game Port Bracket
IEEE 1394 Bracket
There's only so many times we can talk about the same motherboard.... as you no doubt noticed, the 8RGA+ looks almost identical to the Epox's own 8RDA+ and the FIC AU11. The feature set between the motherboards are the same (10/100 LAN, 5.1 audio, IEEE 1394) but this time the 8RGA+ has an integrated GeForce4 MX as well.

As you probably noticed in the rear I/O picture the 8RGA+ sports dual 15 pin analog monitor connectors! We're talking about dual monitors here baby! The Epox 8RGA+ is the only motherboard on the market that has this very cool option.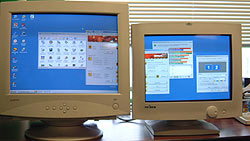 We were happy to see that Epox decided to put a heatsink on the MCP southbridge. It's a shame that they kept the same Northbridge cooling though, that's the first thing overclockers will be replacing. To help keep things a bit more stable, Epox decided to add the ATX12V power connector to the motherboard. This seems to be optional though as we ran the 8RGA+ with no problems with only the main ATX power connector plugged in. Please keep in mind, your mileage may vary and you may find that you need to use the ATX12V to keep your system stable.
Like dual BIOS's, every manufacturer should equip their motherboards with Port 80 diagnostics cards. I don't mind paying the price premium for such a handy tool! Nowadays when I test a motherboard without a Port 80 card, I seem to get frustrated easier. I guess the Port 80 spoiled me too much. =)
In terms of overclocking the 8RGA+ is one of the best. Epox build upon the 8RDA+ and adds VDD adjustments (up to 2.0V) with the 8RGA+!
The Epox 8RGA+ is a bit on the expensive side at $135 CDN ($100 US) but you're sure to be happy if you get the motherboard!
SEARCH PCSTATS

---

Use the power of Google to search all of PCSTATS and the PCSTATS Forums. Tell us what you think of this new feature - FEEDBACK?