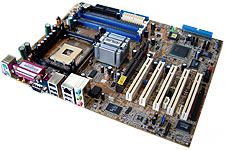 Asus has been the market leader for the last 10 years, so it's not surprising that other manufacturers, such as MSI Computer seek to out perform this company constantly. Asus have an extremely loyal (and sometimes loud) fan base of users who swear by their products. As I mentioned earlier, even my non-computer literate friends have heard of the Asus name.
I was very impressed at how fast Asus was able to bring i875P and i865PE based boards onto the market. I remember when the chipsets were first released, Asus motherboards based on them were available within just over a week. That kind of time to market helps ensure that when consumers enter the store looking for a new chipset, the choices are easy, and slim.
In terms of features, the Asus P4C800-DLX ranks near the top as it features Serial ATA/Serial ATA RAID, IEEE 1394, 5.1 audio and 3Com Gigabit LAN. If the expansion bug hits you the five PCI slots and lone 8x AGP Pro port should keep you happy.
With a retail price of $261 CDN ($186 US) the Asus P4C800-DLX is one of the more expensive motherboards on the market. Being that we would have expected Asus to equip their board with a CSA Gigabit NIC instead of the 3Com Marvel PCI NIC, we were somewhat disappointed. Also, the use of the ICH5 southbridge is a bit disappointing considering all boards in the P4C800-DLX's class use the ICH5R.
Performance of the motherboard was excellent, it was clearly the leader in all benchmarks even at stock speeds! The P4C800-DLX was a decent overclocker and we were able to hit 225 MHz FSB despite using a P4 3.0C. I'm sure if I were using a P4 2.4C we could have gotten much higher, I know several other overclockers out there who are at 300+ MHz FSB's on the P4C800-DLX!
The Asus P4C800-DLX is a well rounded motherboard and if you were to pick one up I'm positive it would serve you well. If you're just looking though, the competition has motherboards similarly equipped for less and they perform about the same. Still if you want the Asus name, the P4C800-DLX is a fine example of it!
Thanks to Canada Computers for providing this Asus P4C800-DLX motherboard for review.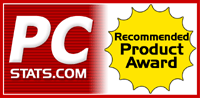 Find out about this and many other reviews by joining the Weekly PCstats.com Newsletter today!

Related Articles

Here are a few other articles that you might enjoy as well...

2.