Gigabyte have raised the bar for all manufacturers in terms of customer care. Not only does Gigabyte label their motherboards well, they do all the little things right like colour coordinate the front panel I/O headers and indicate the positive values! The GA-7VT600's user manual is also extremely detailed so novice should have no problems.
We're happy to see that Gigabyte include one of the better software bundles with the GA-7VT600. It includes Norton Internet Security 2003 (which consists of Norton AntiVirus, Norton Personal Firewall, Norton Privacy Control, Norton Spam Alert and Norton Parental Control) which will certainly help safeguard one's software/data!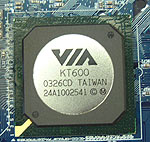 Having played with nForce2 based motherboards for most of the year, it was nice to find that the Gigabyte GA-7VT600 1394's KT600 Northbridge does not generate a lot of heat.
In fact, Gigabyte use a small BX style cooler and the heatsink still does not feel hot even after hours of benchmarking! Same goes with the new VT8237 Southbridge; it's extremely cool running as well.
Enthusiasts take note that the AGP/PCI was not locked during overclocking; severely limited the overclocking potential of the motherboard as the ATi Radeon 9700 Pro does not like anything much higher than 70 MHz AGP. This is not the fault of Gigabyte, rather the blame sits squarely on VIA.
I was very surprised to see that the brand new VIA KT600 does not support AGP/PCI locking yet... the almost 12-month old nForce2 does.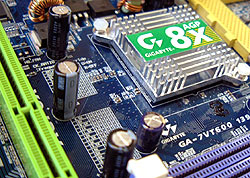 Another annoying tidbit with the Gigabyte's GA-7VT600 1394 motherboard was that it has many dip switches! Couldn't the multiplier control for the processor be located in the BIOS instead of having to manually adjust the dip switches? Oh well, can't win them all.