To be honest I'm a bit sad to see the reliable K7 on its last leg. I know it has certainly served me well; my Athlon machines have always run 100% stable. It's certainly nice to see manufacturers paying their respects by having one last push.
nVidia's nForce2 is easily one of the most successful AMD chipsets ever. Released in the summer of 2002 (yes more then a year ago!) it delivered a knock out blow to all other K7 chipset manufacturers. Funny thing is, it's still going strong to this day.
Albatron's KX18D Pro II is a well rounded motherboard with decent features including; 10/100 LAN, nVIDIA SoundStorm 5.1 audio, IEEE 1394, Serial ATA/Serial ATA RAID and dual BIOS's. The board is pretty future ready. We would have also liked to see an additional IDE/RAID controller as most HDD's on the market are still IDE.
The layout of the KX18D Pro II is excellent, and as you have seen from the benchmarks performance is also super. During testing, the KX18D Pro II often performed on par, or slightly faster than the Epox 8RGA+ which itself is one of the faster nForce2 motherboards on the market.
Enthusiasts will certainly love the motherboard as it has some of the best voltage options we've seen in the last little while. An amazing 2.65V available to the processor is insane, too bad it's almost impossible to mount a water/TEC or phase change cooler on this puppy... okay, okay, enough already ;).
In any case, the Albatron KX18D Pro II is definitely one of the best K7 boards on the market. If you're looking for a new AthlonXP motherboard for gaming, websurfing, or just fun, the KX18D Pro II delivers!
Find out about this and many other reviews by joining the Weekly PCstats.com Newsletter today!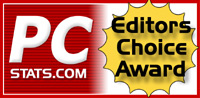 Related Articles

Here are a few other articles that you might enjoy as well...

2.