As mentioned before, the Athlon 64 will be essentially a slightly hobbled (and more economical) version of the Opteron processor, intended for the desktop and mobile markets.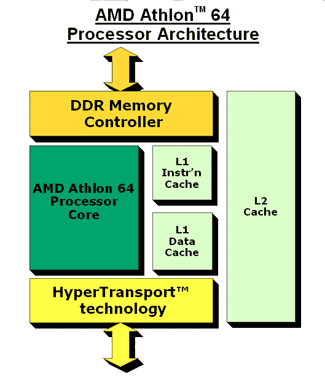 The release of the Opteron, compatible with 32-bit operating systems but capable of more, apparently speeded up Microsoft's plans for creating 64-bit versions of their Windows operating systems.
The Athlon 64 will no doubt be intended to capitalize on the inevitable public perception that 64-bit computing must be the future since Microsoft seems to think so.
The pre-release information available for the Athlon 64 is vague and ever changing, to say the least.
Some things appear to be solid (i.e. directly from AMD); the processor will debut on September 23rd of 2003. It will be available in a 754-pin socket configuration with a built in single channel DDR memory controller (as opposed to the dual-channel memory controller built into the Opteron processors), 512KB of L2 cache memory and a single 6.4GBps Hypertransport link (to the Opteron's three).
By this we can assume that it is not intended to be a multiprocessor solution, at least not using the Hypertransport technology. The Athlon64 is targeted at the home and commercial desktop, mobile computer and the computer enthusiast markets.
As for available speeds, the naming of the processors and the future of the Athlon 64, nothing yet is officially known, but there is a considerable amount of information out there, the consensus of which is:
The Athlon 64 will be initially available in a 754-pin, single channel memory model clocked at 2.0GHz and named the Athlon 64 3200+ and a 940-pin (identical to the Opteron) dual-channel memory model clocked at 2.2Ghz and named, oddly enough, the Athlon FX-51.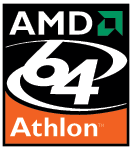 As you can see, the resemblance of the rumored 'FX' Athlon 64 to the Opteron processor is striking.
The Athlon FX is not supposed to be multi-processor compatible, but opinions are divided as to whether this is an actual rebranded Opteron processor... More likely, the Athlon FX is simply an Athlon 64 chip which passed all the tests well enough to meet the elevated requirements of processor and system bandwidth. We will have to wait for the release date to find out for sure.
All the major independent chipset manufacturers have jumped on board with Hypertransport chipsets for the Athlon 64. Via is offering the K8T800, Nvidia the Nforce3, SIS the 755 chipset, and Ali the M1687 Northbridge, so there looks to be plenty of choice ahead in terms of platforms for the processor. Look for our full review of the Athlon 64 on PCstats.com in a few weeks time.