Unreal Tournament 2003

Source: Epic
Unreal Tournament 2003 is the sequel to 1999's multiple 'Game of the Year' award winner. It uses the very latest Unreal Engine technology - where graphics, sound and game play are taken beyond the bleeding edge. Unreal Tournament 2003 employs the use of Vertex as well as Pixel Shaders and it's recommended that you use a DirectX 8 videocard to get the most out of the game.
UT2003 Demo 640x480 Flyby
Video Card
FPS
Ranking
1.
Pentium 4 3.2C
247.74
2.
AthlonXP 3200+
244.64
3.

Athlon64 3200+

299.5
4.
Athlon64 3200+ Oc'ed (2.25 GHz)
323.26
UT2003 Demo 640x460 Botmatch
Video Card
FPS
Ranking
1.

Pentium 4 3.2C

82.81
2.
AthlonXP 3200+
80
3.

Athlon64 3200+

94.07
4.
Athlon64 3200+ Oc'ed (2.25 GHz)
101.81
There's no question, the Athlon64 3200+/K8T Neo simply owns the competition.
Now that the Athlon64 has arrived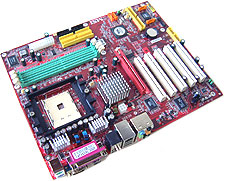 Now that the Athlon64 3200+ and Athlon64 FX51 processors are available to the public, the next few months will be very exciting! You should expect a plethora of reviews; from CPU coolers to motherboards and processors, from every major hardware publication.
While I'm sure this is one of many upcoming socket 754 Athlon64 motherboards that we're going to be reviewing, I don't think it is too early to say that VIA has done a very good job on the K8T800 chipset.
The K8T800 chipset has basically enabled the Athlon64 3200+ to reclaim the performance crown from the Intel 3.2GHz processor.
MSI has always been eager to jump on the bandwagon of new technology and it's clear that their K8T Neo-FIS2R is a good motherboard. It's loaded with features such as IEEE 1394, Serial ATA/Serial ATA RAID, an additional Ultra/133 IDE channel, 5.1 audio and a Gigabit LAN controller. If that's not good enough for you the board still has five PCI slots which should keep you happy.
Layout and design of the motherboard is excellent and I have nothing to complain about. It's obvious that MSI were thinking about the end user when they placed all the ports at the edge of the board. The users manual is extremely detailed, and can easily guide the most novice computer users. I guess the only thing I would have liked to see was an active cooler for the K8T800, and perhaps dual BIOS' for redundancy.
Performance of the motherboard was very good as the benchmarks have shown. Overclocking was an interesting experience. With the K8T Neo-FIS2R alone (no CPU) priced in the range of $215 CDN ($160 US) it's not really that expensive, especially when you consider how many integrated peripherals are included.
MSI also offer couple package deals; the K8T Neo-FIS2R and an Athlon64 3000+ for about $620 CDN ($460 US), or the K8T Neo-FIS2R and an Athlon64 3200+ for about $916 CDN ($680 US). So long as the brand new, 64-bit Athlon64 processor is in short supply, expect MSI, and the other Tier 1 mainboard manufacturers to continue offering their new Athlon64 motherboards with bundled in processors. In early 2004 when AMD moves to 0.09micron manufacturing process you can expect the supply of the Athlon64 to improve.
So, what do I think of the 64-bit* Athlon64 3200+ running under a 32-bit WindowsXP OS, in 32-it mode on the MSI K8T Neo-FIS2R? I like it!
*Footnote: the Athlon64 3200+ is 32-bit/64-bit compatible. No 64-bit WindowsXP operating systems are publicly available at the time of this review, therefore, the Athlon64 3200+ processor was operating under a 32-bit OS, as a 32-bit processor.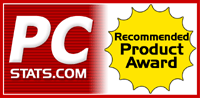 Find out about this and many other reviews by joining the Weekly PCstats.com Newsletter today!

Related Articles

Here are a few other articles that you might enjoy as well...

2.