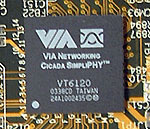 VIA are particularly proud of a new Gigabit Ethernet solution they've created working in conjunction with Cicada Semiconductor.
The new GbE chipset claims to be one of the highest quality PHYs on the market when dealing with signal interference which can otherwise drop the effective distance a 10/1000 connection can be sustained at.
There are two key aspects of the VT6120 ethernet controller you should be aware of, the first is the MAC (Media Access Controller) and second is the PHY (PHysical Layer device).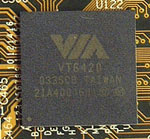 Most board-mounted network chipsets have the MAC integrated within the Southbridge, while the actual network controller you see on the PCB is only the PHY. Because it is relatively expensive to implement a high quality PHY, most manufacturers skimp and implement very economical solutions. These lower quality PHYs have the same specifications as the higher quality PHYs, allowing the manufacturer to tick "Gigabit Ethernet off the list".
In the real world this doesn't matter when you're talking 10/100 fast Ethernet, but 10/1000 Gigabit Ethernet connections can quickly begin to suffer over any great distance. If that happens, the GbE connection you thought you had, simply drops down to 10/100 which is much easier to maintain.
For example, the IEEE states that in a lab environment that is interference free, all GbE network controllers are supposed to function upto 100 meters. When line noise in introduced (like 33 MHz PCI bus signal noise), the length a Gigabit ethernet connection can be maintained over a CAT5 cable will drop. With some Gigabyte network chipsets, common 25MHz and 33MHz line interference can drop the useable GbE connection down to short distances of little more than 20m.
This is not so much of a problem for home situations, but take into effect LAN games, or business environments, and this can have a very real effect to the efficiency of our GbE network communications. According to tests conducted by VIA, the VT6120 network controller is capable of maintaining GbE connections over 120+m with 33 MHz signal noise in the line.
Experiments at Overclocking with the PT880:
We were surprised to find that the PT880 reference motherboard came equipped with quite a few overclocking options, so we figured we'd give the old "OC" a shot. Unfortunately our overclocking adventures did not go very far; if we tried to go above 211 MHz FSB the system would drop back to desktop when running 3D benchmarks.
I tried raising memory timings, lowering the memory divider, and even raising the memory and chipset voltages, but nothing helped. Is this a sign of what to expect from the PT880 when it hits the shelves under the label of Asus, Gigabyte or MSI?
I don't think so, but we'll have to wait to know for certain. In general, VIA have been pretty enthusiast friendly, so I would expect retail PT880-based motherboards to handle the task better.