We also tested the Gigabyte GN-A17GU's ability to host a second wireless network by using its built in PCMCIA slot with a Gigabyte wireless network card. We used the GN-WMAG card we had on hand to create a second 802.11g network on the access point. Installation of the card was easy. Just power off the device, pop off the plastic cover concealing the add-on port and plug in the card, then power on the access point again. Presto, a second network was available.
Using the AP manager software, you can configure the two networks separately. Somewhat counter-intuitively though, the only way to switch between the two networks is to use the 'card config type' dropdown box in the 'system' tab of the software. An interesting feature, anyhow, especially if you are looking to combine an 802.11a network with the 'g' standard.
Performance Tests
We benchmarked the Gigabyte GN-A17GU using NetIQ to test the average throughput and response time of the wireless connection, as well as the transfer of an 11.8MB file to test real-world performance.
For the following benchmarks, we used an 802.11g card (Gigabyte's GN-WMAG) and an 802.11b card (SMC's SMC2632W ) both installed into a laptop situated about 20 feet from the access point on a different floor, to simulate typical home and business conditions.
We also tested the performance of the GN-A17GU with WEP enabled, as we wanted to see how the encryption impacted the performance of the device. We also tested the performance of WPA-PSK (Wireless Protected Access - Pre-shared Key) mode, connecting to the Gigabyte card. Our final benchmark used the 108mbps proprietary 'turbo-G' mode.
802.11g Wireless Network NetIQ Tests

Access Point to:

802.11g
Gigabyte GN-WMAG

802.11b SMC
SMC2632W
Average Throughput
21.5 Mbps
5.9 Mbps
Response Time
1 ms
3ms
11.8Mb Test file transfer
~5 sec
16sec
Access Point with 64-bit WEP to:
WEP Average Throughput
20.1 Mbps
WEP Response Time
1 ms
WEP 11.8Mb Test file transfer
~6sec
Access Point with 128-bit WEP to:
WEP Average Throughput
19.9 Mbps
WEP Response Time
1 ms
WEP 11.8Mb Test file transfer
~6sec
Access Point with 152-bit WEP to:
WEP Average Throughput
19.5 Mbps
WEP Response Time
1 ms
WEP 11.8Mb Test file transfer
~6sec
Access Point with 128-bit WPA-PSK to:
WPA Average Throughput
17.6 Mbps
WPA Response Time
2 ms
WPA 11.8Mb Test file transfer
~7sec
Access Point with 'Turbo-G' enabled to:
Average Throughput
25.5 Mbps
Response Time
1 ms
11.8Mb Test file transfer
~5sec
Ethernet Reference:
10/100 Wired Ethernet (typical)

61.5 Mbps

Wired Response Time

1ms
The benchmarks we carried out demonstrate a few very positive things about the Gigabyte GN-A17GU and WIFI 'g' products in general. Most obviously, the data transfer speed is greatly improved. While not equaling the advertised 54mbps of the 'g' standard, 802.11g products still manage to shunt about 3x as much data per second as 802.11b systems.
Secondly, the greater data carrying capacity of 802.11g means that WEP encryption, which can have a considerable impact on 802.11b wireless performance due to the overhead that the encryption adds, has much less impact on the speed of the connection. In fact, the GN-A17GU barely lagged at all as a result of piling on any level of WEP encryption, and even WPA had a barely noticeable effect on data traffic.
Thirdly, and specific to the Gigabyte GN-A17GU, the device provides a very good platform for 802.11b based clients also. The benchmark we recorded with our older SMC 802.11b adaptor was very impressive, topping most results we had previously seen with 802.11b based routers and access points.
Our experience with the Gigabyte GN-A17GU was very positive, barring the one software glitch with the multiple-network adaptor setup. Gigabyte is obviously making a play for the kind of commercial networking terrain held by heavyweights like 3com, and with this product at least, they seem to be headed in the right direction.
The transfer speed was decent, the strength of the wireless signal was impressive, and Gigabyte's Access Point Manager software was very easy to configure. The GN-A17GU also has the unobtrusive 'corporate' look down. Combine all this with the latest wireless security options and the expected ability to communicate with other access points to form a large area wireless network, and you have an excellent product.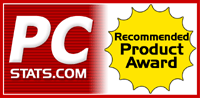 Find out about this and many other reviews by joining the Weekly PCstats.com Newsletter today!
Related Articles:
Here are a few other articles that you might enjoy as well...
- Gigabyte GN-WLBZ201 USB/802.11b Dongle Review
- Actiontec 802.11a 54Mbps Wireless Gear Review
- Belkin Wireless 802.11b Networking Review
- Installing a Home Ethernet