This Windows XP-based 1.3GHz AMD home office system had gone for a while since it was last checked for spyware. A full system scan by both Ad-Aware and the Microsoft Windows AntiSpyware (beta) software determined that yes, there was a considerable menagerie of spyware onboard.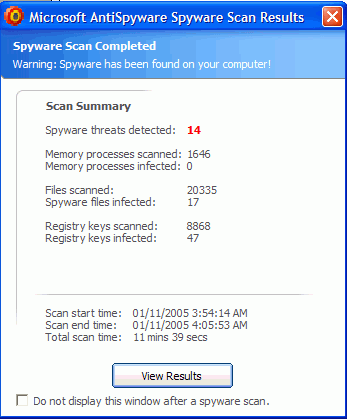 Note that three of the detected threats that the Microsoft Windows AntiSpyware (beta) software picked up were inconsequential, two of them being peer-to-peer programs known to bundle adware, and the third being a remote admin program that we had knowingly installed. In these cases, we were pleased to see that Microsoft's new program placed a default 'ignore' order on the three entries so that we did not accidentally delete useful software.
Interestingly in this case, while Ad-Aware picked up less 'families' of spyware than theMicrosoft Windows AntiSpyware (beta) software, it seemed to find more infected files in several of the cases. For example, with the 'statblaster' adware program, Microsoft's software identified a single file while Ad-Aware picked up ten assorted files and registry entries. Also, unlike our previous test on the Intel laptop, there was very little overlap in the results here, as each program seemed to find a different list of nasties. We aren't sure what to make of this.
In the next test we decided to run things the opposite way on this second test system, putting the Microsoft anti-spyware beta through its paces first, then letting Ad-Aware run a second scan for remaining nasties. Here's the result.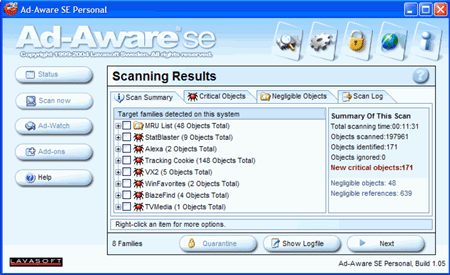 Not so good for our new Microsoft product here. As you can see, there are several leftover spyware and adware programs, including the remaining 'statblaster' files and registry entries that the Microsoft anti-spyware beta failed to pick up the first time around. This kind of inconsistency in scanning results can lead to persistent spyware and adware infestations and a poorly performing system.